Indonesia Culture Smart! – Book Review
Indonesia Culture Smart! – Book Review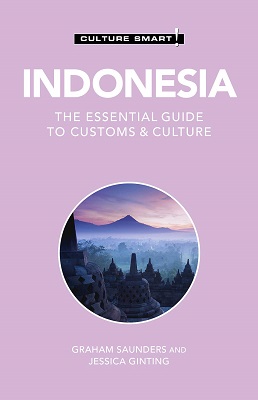 Indonesia Culture Smart!
The Essential Guide to Customs & Culture
Author – Graham Saunders & Jessica Ginting
Publisher – Kuperard
Pages – 200
Released – 4th March 2021
ISBN-13 – 978-1787028968
Format – ebook, paperback
Rating – 4 Stars
I received a free copy of this book.
This post contains affiliate links.


Synopsis
Indonesia, stretching across three time zones and situated on one of the world's great maritime trade routes, has a rich and varied culture.
Culture Smart! Indonesia describes the many different cultural backgrounds that make up this rainbow nation, helping you to better understand the values that underpin its diverse society. It reveals how modern Indonesians view themselves and go about their daily lives, and gives advice on how to navigate unfamiliar situations. Armed with essential cultural information and tips on effective communication, readers are better placed to have a more meaningful and successful experience in this fascinating country.
Have a more meaningful and successful time abroad through a better understanding of the local culture. Chapters on values, attitudes, customs, and daily life will help you make the most of your visit, while tips on etiquette and communication will help you navigate unfamiliar situations and avoid faux pas.
I've never been to Indonesia and this review, I haven't checked on the internet or with anyone that lives in Indonesia as to whether the information is correct as I think this would hinder my review. I am solely basing my review on the information on Indonesia inside this Culture Smart! book.
This is the fourth Culture Smart! book that I have read and reviewed. I love to discover information about countries and cultures and these books are the perfect way to do that. They are essentially a book for someone either travelling to or even going to live in the country the book is about. They have an extensive range of books that are updated regularly.
I found the book easy to understand and enjoyable to read. It is filled with things that I would need to know had I been travelling to Indonesia for any length of time or to live there. Covered in the book is:
– Land and People
– Values and Attitudes
– Religion and Festivals
– Making Friends
– Indonesians at Home
– Time Out
– Travel, Health, and Safety
– Business Briefing
– Communicating
The book opens with a map of the country and an introduction that teaches us about how Indonesia is the world's largest archipelago (an area that contains a group of islands scattered in lakes, rivers, or the ocean). There are more than 17,000 islands that stretch some 3,200 miles, with roughly 6,000 of them inhabited by around 260 million people.
The country is multi-ethnic with more than 300 different ethnic groups. The book covers the main ethnic groups and explores their heritage and values. It teaches you about what things you shouldn't do that would cause offence to Indonesians or what your non-verbal motions may mean to them, such as standing with your hands on your hips is classed as being aggressive, never touching their heads as this is sacred and never show the underneath of your feet.
I enjoy these small pocket-sized books that are laid out in easy-to-understand and find chapters. Everything you could want to know from the history to the modern-day is covered in this short book. It would be a valuable asset for anyone who is visiting, living, or even just learning about the country.
Purchase Online From:
---
What did you think of 'Indonesia'? Share your thoughts in the comment section below!
---
The above links are affiliate links. I receive a very small percentage from each item you purchase via these link, which is at no extra cost to you. If you are thinking about purchasing the book, please think about using one of the links. All money received goes back into the blog and helps to keep it running. Thank you.
Like us on Facebook – Tweet us on Twitter – Pin us on Pinterest – Join us on Instagram