On the Count of Three by Carolyn Arnold – Book Review
On the Count of Three by Carolyn Arnold – Book Review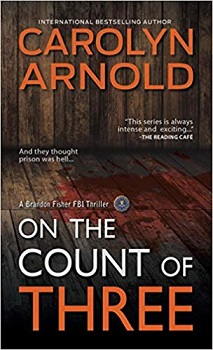 On the Count of Three
Brandon Fisher FBI series Book Seven
Author – Carolyn Arnold
Publisher – Hibbert & Stiles Pub
Pages – 460
Released – 4th December 2018
ISBN-13 – 978-1988353746
Format – ebook, paperback, hardcover
Reviewer – Stacey
Rating – 5 Stars
I received a free copy of this book
Post contains affiliate links.
Drinking and driving may be deadly in more ways than one…
When a woman's disappearance ticks off all the same boxes as two unsolved murders, Miami homicide detective Kelly Marsh is convinced there's about to be a third. If she's right and the killer sticks to their previous MO, she only has three days before Jenna Kelter's decapitated head will show up somewhere in the city. With no time to waste, Kelly reaches out to the one person she knows can help: her former mentor and family friend Jack Harper, who just happens to lead a team with the FBI's Behavioral Analysis Unit.
BAU special agent and profiler Brandon Fisher easily sees the similarities between Detective Marsh's missing person case and the two cold cases: all three victims served time for DUI vehicular homicide and disappeared three days after being released from prison. But is that enough to assume Kelter has been abducted by a serial killer? Brandon's not so sure and fears his boss may have let his personal connection to Marsh cloud his judgment. Surely there isn't any other explanation for why they jumped into an investigation less than twenty-four hours after Kelter was reported missing. Then again, maybe Brandon is letting his own differences with the detective affect his perspective. He'll need to move past it, though—and quickly.
After all, this killer has evaded capture for the past six years, and they may be looking at a lot more victims than originally suspected. This serial killer is calling the shots and pulling them into a macabre game of cat and mouse. While the team has no choice but to play, if they don't make the right moves, one of them may not make it out of Miami alive.

How do you find a serial killer that waits years between decapitating his victims? That is what faces Detective Kelly Marsh and she needs Profiler Brandon Fisher's help to catch her man in One the Count of Three.
The first two victims were kidnapped three days after being released from prison for drink driving offences. Their decapitated heads were boxed up and left to be found. Now Jenna Kelter who was also released from prison three days ago for D&D has gone missing. The detectives know that they only have three days to find her before she becomes the killers next victim.
With not much to go on can the detectives find a needle in a haystack and save Jenna?
Once again Carolyn Arnold has written a superb detective thriller featuring one of the best modern-day fictional detectives, Brandon Fisher. He is a complex man but his job always comes first and the need to catch the bad guys is inbuilt within him.
As well as watching the detectives work the case and the clues unfold we also get to spend time inside the killers head too. I had my ideas as to why he was killing, what drove him to pick these victims, and why he was decapitating them. Not your average way of killing someone. Some of my ideas did run true whilst others I missed by a long shot.
On the Count of Three is like having an adrenaline rush, there is so much happening and you find yourself wanting to save Jenna even though you know she has been to prison and that what she did was so wrong, yet as compassionate people we know that death isn't the answer for her crimes, whereas the killer believes it is.
If you like crime thrillers and detective novels this whole series is one of the best. The plot lines are filled with rich, well-researched storylines and the excitement throughout keeps you attached to the pages and on the edge of your seat. On the Count of Three is an intense, shocking book that you won't want to put down once you have started.
Reviewed by Stacey
---
Purchase online from:
---
About the Author

CAROLYN ARNOLD is an international bestselling and award-winning author, as well as a speaker, teacher, and inspirational mentor.
She has four continuing fiction series—Detective Madison Knight, Brandon Fisher FBI, McKinley Mysteries, and Matthew Connor Adventures—and has written nearly thirty books. Her genre diversity offers her readers everything from cozy to hard-boiled mysteries, and thrillers to action adventures.
Both her female detective and FBI profiler series have been praised by those in law enforcement as being accurate and entertaining, leading her to adopt the trademark: POLICE PROCEDURALS RESPECTED BY LAW ENFORCEMENT™.
Carolyn was born in a small town and enjoys spending time outdoors, but she also loves the lights of a big city. Grounded by her roots and lifted by her dreams, her overactive imagination insists that she tell her stories. Her intention is to touch the hearts of millions with her books, to entertain, inspire, and empower.
She currently lives just west of Toronto with her husband and beagle and is a member of Crime Writers of Canada and Sisters in Crime.






---