Sentence Of Death by A.P. Martin – Book Review
Sentence Of Death by A.P. Martin – Book Review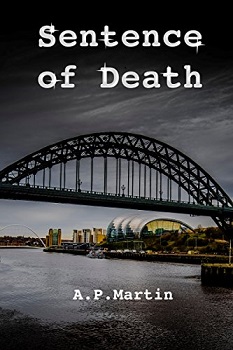 Sentence Of Death
Clavel and Snow Crime Series Book One
Author – A.P. Martin
Pages – 297
Released – 28th March 2018
ISBN-13 – 978-1980661832
Format – ebook, paperback
Reviewer – Clive
Rating – 4 Stars
I received a free copy of this book
Post contains affiliate links.
It's July 2016 and Tyneside is basking in glorious summer weather. Recently divorced Olivia flies back to her home town for a much needed holiday and to attend Opera North's acclaimed production of all four of Richard Wagner's 'Ring Cycle' of operas, which are to be performed over six days at The Sage in Gateshead.
But, just as the international audience has arrived and the music festival is gathering momentum, the city is shocked by a brutal murder. Keen to close the investigation as quickly and quietly as possible, senior police officers convince themselves that they have their man. But ambitious, ex-Met Detective Sergeant Sam Snow is far from convinced.
When a second violent death occurs, the police investigation runs into a brick wall, until Olivia suggests a bizarre and disturbing theory. As the killings continue, it falls to Sam and Olivia to risk everything, in a desperate race to uncover the truth and to prevent further loss of life.

I really enjoyed A.P. Martin's two World War 2 spy novels which were based around regions and activities that do not often feature in literature.  I was very interested when I heard that he had written a contemporary crime thriller but I was concerned that he would now be treading ground already covered by thousands of other writers. I had no need to be worried as A.P. has produced another very enjoyable book.
However, a fresh concern arose after I had completed it.  I shall explain later.
The fictional storyline is based around the true life performances by Opera North of Wagner's Ring Cycle in Gateshead in June 2016 which drew opera lovers from the UK and abroad. The tale starts with two such fans, psychologist Olivia and banker J.P. who meet while flying from Switzerland. Aged in their fifties they are respectively recently divorced and widowed, and the story is a gentle one of a developing friendship which suggests a future romance.
We then hear of the first murder at which time we meet our younger, overworked and unloved DS Sam Snow. Olivia subsequently becomes involved in the investigation and the story progresses.
As with his spy adventures A.P. Martin has filled this novel with plenty of detail about the Operas and life on Tyneside.  The plot has been well crafted.  There is never a dull moment and the story builds through various twists and turns to a dramatic climax.  The action is described in the first person, alternating from the perspective of Olivia and Sam.
The police investigation is somewhat formulaic with the bungling senior officers desperate for quick results. As is often the case in modern police tales Sam, as the unpopular and unconventional junior officer, is portrayed as the only decent person in the force.
I appreciate classical music and although I am not a great opera fan the book fired up my imagination for Wagner and the Ring Cycle.  Sentence of Death is a very good book. You will find it easy to read and you will be intrigued until the end. I have awarded four stars.
But, you ask, what about the concern that I mentioned above. My Kindle version was entitled simply Sentence of Death with no reference to this being one of a series. However, as you have probably already seen Amazon are selling the book as Sentence of Death (Clavel and Snow Crime Series Book 1). To date I have read three books by A.P. Martin, all original and all full of the unexpected. Can he keep that originality going with a series based around a middle class 50+ psychologist and a thirty something unconventional detective sergeant? We will have to see.
Reviewed by Clive
---
Purchase online from:
---
About the Author

I hail from the North of England and, since taking early retirement from my academic post, I've really enjoyed immersing myself in reading and writing. Essentially, I read purely for pleasure and my single goal in writing, is to produce books that people will thoroughly enjoy as a 'cracking story.'
My first two novels are historical fiction, a genre which, in my view, almost always benefits from a close connection to something that actually happened. The inspiration for my first two books, Codename Lazarus and Spy Trap, came from little known, but truly incredible events from the Second World War. It gave me huge pleasure to adapt the courageous actions of two unsung heroes, into what, I hope, readers have experienced as exciting thrillers.
My third novel, Sentence of Death, represents an exciting new direction for me. It's a crime thriller, set on Tyneside in the summer of 2016. Strangely, the basic framework for this book also comes from a real event in Gateshead at that time. I've always been a bit of a fan of crime fiction, and I do hope that readers of this book will agree that I've created an original plot for their entertainment.
Currently, I'm working on my fourth book, which will be the second in the Clavel and Snow Crime Series, set in the North East. I also have a firm plan to return to the more familiar territory of the Second World War with another virtually unknown, but extremely important story of bravery, which I will try to adapt into a thrilling adventure story.