The Angel Alejandro by Alistair Cross – Book Review
The Angel Alejandro by Alistair Cross – Book Review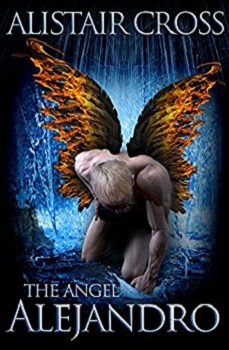 The Angel Alejandro
Author – Alistair Cross
Publisher – Glass Apple Press
Pages – 594
Released – 25th January 2017
Format – ebook
Reviewer – Julie
Rating – 4.5 Stars
I received a free copy of this book
Post contains affiliate links.
Angel or Demon?
Naive and heart-stoppingly handsome, he calls himself Alejandro, and Madison O'Riley has no clue what to do with him. As they set out to recover his lost identity, Madison realizes the mysterious man who saved her life harbors deep, otherworldly secrets that will put her in grave danger.
The Devil is in the Details
Gremory Jones has something for everyone, and for a price, he's willing to make a deal. Walking the streets in top hat and trench coat, he tempts the citizens with nefarious wares from his shiny black briefcase. But buyer beware: All sales are final – and fatal.
A Scorching New Terror Has Come to Town
The townspeople are changing in appalling ways and it's up to Madison – with the help of a psychic, a local priest, and the new chief of police – to help Alejandro unlock his forgotten powers before an unspeakable evil tears apart the fabric of existence … and costs them their very souls …

'The Angel Alejandro' is written in the past tense and the third person, allowing us to see the story unfold through the eyes of various protagonists.
We join the story in dramatic fashion with Madison O'Riley on her roof trying to mend a hole which is allowing rain to damage the newly refurbished oak floor below. We quickly meet Alejandro who saves her when she misses her footing on the ladder.
Alejandro is a blond Adonis who would rather be naked than fettered by 'garments'. He has no idea who or what he is, although the reader has a shrewd idea from the book title. He has a naivety about him which makes him appear vulnerable but also an uncanny knack of eliciting all manner of shameful secrets from everyone he meets.  He possesses an overwhelming desire to help anyone in trouble and seems to have an affinity with animals. Whilst Madison finds him incredibly attractive, this feeling is outweighed by the responsibility of helping him discover his true identity.
In a separate thread, we meet Nick Grayson, the new Chief of Police who has just moved to town and whilst an honest and trustworthy officer of the law, is also a flawed character who is far too fond of drinking and women.
Upon this backdrop, the small town of Prominence in California is shaken to its roots by the arrival of the mysterious Gremory Jones and his cohort.  Tensions boil over as he weaves his wicked web of corruption and chaos. Norms and values are broken down and primitive instincts come to the fore.
The main characters are well-rounded with the supporting cast contributing some colourful cameos.  The descriptive passages are vivid and engaging. Cross successfully tells his tale through the use of alliteration, irony, humour, pathos, similes, symbolism, imagery, metaphors, inclusion and foreshadowing, with the probable addition of a few devices I missed.
This is basically a story of good versus evil. The tempo gradually builds as we begin to understand more of Mr Jones' malevolent intentions, with people turning against each other in the most brutal of ways. In stark contrast, we also witness a tender and gentle relationship unfolding between Madison and Alejandro.
The levels of sex and violence increase as the story progresses.  In the context of the plot much of it is appropriate, however some is gratuitous.  This is a very strong piece of work which did not need to rely on superfluous content.  In particular, I couldn't see that the sordid scene in St John's Church contributed anything towards advancing the story. That said, I doubt fans of the supernatural horror genre are easily offended and believe they will thoroughly enjoy this story for its twists, turns and diversity.  For the idea and writing skills demonstrated, I award 'The Angel Alejandro' four-and-a-half stars.
Reviewed by Julie
---
About the Author

Alistair Cross was born in the western United States and began penning his own stories by the age of eight. First published by Damnation Books in 2012, Alistair has since published several more novels. In 2012, he joined forces with international bestselling author, Tamara Thorne, and as Thorne & Cross, they write the successful Gothic series, The Ravencrest Saga. Their novel, The Cliffhouse Haunting, is an Amazon Best Seller, as is Alistair's solo novel, The Crimson Corset.
In 2014, Alistair and Tamara began the internet radio show, Thorne & Cross: Haunted Nights LIVE! Haunted Nights LIVE! premiered to great acclaim and has featured such guests as Chelsea Quinn Yarbro of the Saint-Germain vampire series, Charlaine Harris of the Southern Vampire Mysteries and basis of the HBO series True Blood, Jeff Lindsay, author of the Dexter novels that inspired the hit television series, Jay Bonansinga of the Walking Dead series, Laurell K. Hamilton of the Anita Blake Vampire Hunter novels, and New York Times best sellers Christopher Rice, Jonathan Maberry, and Christopher Moore.
Alistair is currently at work on several projects including a solo novel and a new Thorne & Cross collaboration. His influences include the works of Stephen King, Dean Koontz, John Saul, Ira Levin, and William Peter Blatty.





---