I Jonathan by George WB Scott – Book Review
I Jonathan by George WB Scott – Book Review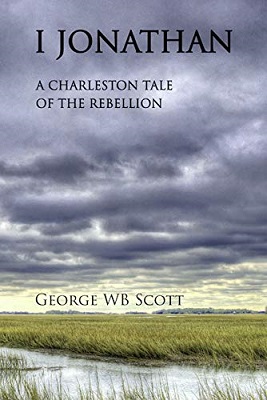 I Jonathan
A Charleston Tale of the Rebellion
Author – George WB Scott
Publisher – Southern Rocket and Fountain City Publishing
Pages – 442
Released – 3rd October 2020
ISBN-13 – 978-0976086758
Format – ebook, paperback
Rating – 5 Stars
I received a free copy of this book.
This post contains affiliate links.


Synopsis
A stranger from Boston is marooned in Charleston just as the Civil War begins. His relationships with working men and women, slaves, merchants, planters, spies, inventors, soldiers, sweethearts and musicians tell the story of a dynamic culture undergoing its greatest challenge.
Jonathan's adventures include the bombardment of Fort Sumter, the last great Charleston horse race, the Great Charleston Fire of 1861, the Battle of Secessionville, visits to the North Carolina mountain homes of wealthy Low Country planters, a run through the Federal Blockade, a visit to the raucous boomtowns of Nassau and Wilmington, battles of ironclads and monitors, the Battle of Battery Wagner (made famous in the movie, Glory, ) and an encounter with a Voo-Doo conjure man. His story documents the hopes and struggles of a young man making a new life in a strange land in a time of war and change.
The American Civil war is not a conflict that I have studied in any great detail so I am grateful to George W.B. Scott who has encouraged my interest in those events. He has expertly used his protagonist, Jonathan Vander, to give us a close up story of the effects of the war on Charleston, its surroundings and their people. As Jonathan was raised in the North but was living in the South he was well placed to understand the situation from both sides.
Scott gives the story authenticity as Jonathan relates it in the first person on his 100th birthday in 1941 to the narrator, his great, great nephew Ralph. Ralph was a young man at the time and could conceivably still be alive today, giving the reader the impression of receiving it first-hand.
The book is easy to read and easy to follow. It is written in a language that has an appropriate mid-nineteenth century feel about it.
As a character, Jonathan is believable with a kind nature that helps him to cope in what could have been a very dangerous situation. Fortunately for us his work takes him to different areas in the region which helps the author to give us such a rich and varied view of so many aspects of life in those troubled times. His role also helps him to engage with all circles of society including the wealthy landowners, the Irish and German immigrants, the homeless, the slaves and the free people of colour.
We also have some fascinating lesser characters, many of whom appear from time to time such as Sergeant Kerry, Martin and Jenny, Isabella and Jacob's family. My favourite was Charles the engineer and inventor who George W.B. Scott used to demonstrate the rapid developments in mechanised warfare during that conflict. I don't know if Charles was based on a single real person but we briefly met one real character; the pioneering American nurse, Clara Barton.
I Jonathan is more a social history than a military history with details of everyday life at the time. There are extracts from many poems and songs of the period together with references to other stories. There is also some romance which Scott describes very well.
I can thoroughly recommend I Jonathan which will entertain and educate. I have awarded five stars.
Purchase Online From:
---
What did you think of 'I Jonathan'? Share your thoughts in the comment section below!
---
The above links are affiliate links. I receive a very small percentage from each item you purchase via these link, which is at no extra cost to you. If you are thinking about purchasing the book, please think about using one of the links. All money received goes back into the blog and helps to keep it running. Thank you.
Like us on Facebook – Tweet us on Twitter – Pin us on Pinterest