Last Orders by Caimh McDonnell – Book Review
Last Orders by Caimh McDonnell – Book Review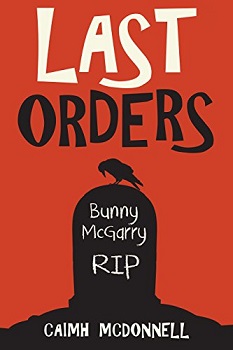 Last Orders
The Dublin Trilogy
Author – Caimh McDonnell
Publisher – McFori Ink
Pages – 350
Released – 22nd February 2018
ISBN-13 – 978-0995507562
Format – ebook, paperback
Reviewer – Abby
Rating – 5 Stars
I received a free copy of this book
Post contains affiliate links
As a wise man once said, just because you're done with the past, doesn't mean the past is done with you.
Paul can't let an incident from his past go. When he finds out a rival detective agency played a key role in it, he drags MCM Investigations into a blood feud that they can't hope to win. Soon they're faced with the prospect of the company going out of business and Brigit going out of her damn mind.
When long-buried bodies are discovered in the Wicklow Mountains, Bunny's past starts closing in on him too. Who can he trust when he can't even trust himself? When he finds himself with nowhere left to run and nobody he can turn to, will the big fella make the ultimate sacrifice to protect the ones he loves?
When all that's left is the fall, the fall is everything.
And even the mighty fall.
Last Orders is the thrilling conclusion of the critically acclaimed Dublin Trilogy, which melds fast-paced action with a distinctly Irish acerbic wit. It's best enjoyed having read the other books in the series, particularly the prequel Angels in the Moonlight.

Here it is. The last book of Caimh McDonnell's 'Dublin Trilogy' (although this is technically book four!).
What a trilogy it has been. Non-spoiler alert: if you've not read the first three novels – 'A Man With One Of Those Faces', 'The Day That Never Comes' and 'Angels In The Moonlight' – I strongly urge you do first. While not technically a prerequisite for reading Last Orders, I would recommend: 1) because the writing and story throughout is hilarious, original and captivating, and 2) because it will make the prologue much more shocking.
From the cover alone, it's another non-spoiler alert that we begin with Bunny McGarry's funeral. The inimitable Bunny. One of the best anti-heroes I have ever had the pleasure of reading. For me, it's Bunny who has particularly kept me coming back to the Dublin Trilogy. He's at once predictable and shocking. Tragic and comic. Caring and intimidating. So to begin with his funeral in the prologue was a gut-wrenching moment: "Alongside the coffin, which was draped in a jersey with a hurley lying across it, a massive wreath of flowers spelt out his name. Bunny."
After reading the previous three stories, it's not a complete surprise that we begin here. After all the adventures and misadventures we've followed Bunny on, the fact that his actions have resulted in his death is in many ways inevitable.
And for those who have not (yet!) read the previous novels, when you begin to read Last Orders and learn about Bunny's past catching up with him, it's not a shock either…
Enough about Bunny (for now) – what about Paul, Brigit, Phil and Maggie the dog? Chapter One and we catch up with the gang in the midst of a private detective agency war, 22 days before the funeral. Their MCM Investigations are in a bitter battle of one-upmanship against the Kelleher brothers, who, as it transpires, were the ones behind Paul's stag do gone wrong, resulting in the end of his relationship with Brigit.
Back with Bunny, and he's as certain as we are that his days are numbered. Why? He's hallucinating, seeing and hearing visions of a man who claims he was killed by Bunny eighteen years ago. A man whose body has just been discovered by the Gardai: "And just because I'm not real, it doesn't mean I'm not a problem". He's also seeing Gringo, his Gardai partner who was killed, funnily enough, eighteen years ago too. Although, when you consider how Bunny was tortured in The Day That Never Comes and the events of the prequel Angels In The Moonlight, the hallucinations are not so surprising, a symptom of post-traumatic stress to highlight just be his past suddenly catching up on him.
Instead of the tough, often inebriated, thuggish Bunny we're used to, we're seeing his sentimental side – although the inebriation and thuggish attitude are still generally present and unpleasant. He ensures that, if anything happens to him, his beloved St Jude's hurling team will be OK. He helps Paul and Brigit see beyond their stubborn attitudes towards each other and realise they are still clearly in love. And when Paul and Brigit start to solve their problems and move their focus onto helping Bunny, could it be too little too late?
The beauty of McDonnell's plots throughout the Dublin Trilogy is that they are never what they seem. Last Orders is no exception. From Maggie the dog's timely flatulence to elaborate honey traps, the MCM Investigation team's actions are constantly funny, providing a well-needed antidote to Bunny's internal struggles. With an ending promising suspense, cunning and wit, Last Orders is the perfect ending to McDonnell's trilogy. Here's hoping that we'll be seeing some of our favourite investigation team again soon…
Reviewed by Abby
---
Purchase online from:
---
About the Author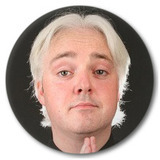 Caimh McDonnell is an award-winning stand-up comedian, author and writer of televisual treats.
In his time on the British stand-up circuit, he has firmly established himself as the white-haired Irishman whose name nobody can pronounce. He performs regularly at all the major clubs and is equally at home doing a set or acting as MC. He regularly supports Sarah Millican on tour and has also brought the funny worldwide, doing stand-up tours of the Far East, the Middle East and once, the near east (Norwich). He brings a new stand-up show to the Edinburgh festival pretty much every year, mainly as an excuse to eat things that've been deep fried.
Caimh is in great demand as a writer for TV. He has recently worked on the hit BBC2 show 'The Sarah Millican Television Programme' and written for comics on 'Mock the Week' and 'Have I Got News for You'. He also works as a children's TV writer and was BAFTA nominated for the CBBC animated series 'Pet Squad' which he created. He was a winner in the BBC's Northern Laffs sitcom writing competition, where he was lucky enough to be mentored by Craig Cash and Phil Mealey of 'Royle Family' fame.
Caimh is massively proud to be 'The Voice of London Irish'. Currently in his tenth season as a key part of the London Irish rugby club match day experience, he acts as the announcer in the Madjeski stadium in Reading, as well as conducting player interviews and writing for the programme. He was recently delighted to referred to as 'Appallingly Partisan' by the Rugby Paper, who seemed to be under the mistaken impression that he is sent in by the UN to seek a peaceful resolution to the match.
So, all-in-all, he manages to keep himself busy.
Have a read of our interview with Caimh – 'The Writing Life of: Caimh McDonnell'





---