The Day That Never Comes by Caimh McDonnell – Book Review
The Day That Never Comes by Caimh McDonnell – Book Review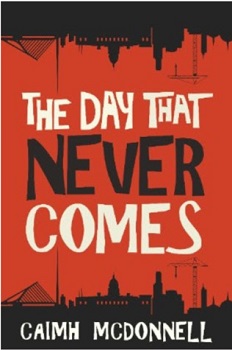 The Day That Never Comes


The Dublin Trilogy Book Two
Author – Caimh McDonnell
Publisher – McFori Ink
Pages – 360
Release Date – 23rd January 2017
ISBN-13 – 978-0995507524
Format – ebook, paperback, audio
Reviewer – Abby
I received a free copy of this book
Post Contains Affiliate Links

Remember those people that destroyed the economy and then cruised off on their yachts? Well guess what – someone is killing them.
Dublin is in the middle of a heat wave and tempers are running high. The Celtic Tiger is well and truly dead, activists have taken over the headquarters of a failed bank, the trial of three unscrupulous property developers teeters on the brink of collapse, and in the midst of all this, along comes a mysterious organisation hell-bent on exacting bloody vengeance in the name of the little guy.
Paul Mulchrone doesn't care about any of this; he has problems of his own. His newly established detective agency is about to be DOA. One of his partners won't talk to him for very good reasons and the other has seemingly disappeared off the face of the earth for no reason at all. Can he hold it together long enough to figure out what Bunny McGarry's colourful past has to do with his present absence?
When the law and justice no longer mean the same thing, on which side will you stand?

"He'll lie, cheat, blackmail – whatever it takes. He's not a bad man. He's worse than that. He's a good man who'll do bad things for what he thinks is right"
Yes! Caimh McDonnell's 'Dublin trilogy' is back for round two with The Day That Never Comes and, spoiler alert, it does NOT disappoint. So where do we find our favourite trio of wannabe detectives after A Man With One Of Those Faces? Average-faced Paul is in his new digs, the MCM headquarters. OK then, a dingy office that he's sleeping in too because is no longer with Brigit. Brigit doesn't fare much better either; she's split from Paul after receiving some compromising photos of Paul on a night out that he can't quite explain and she's lost her nursing job thanks to desire to put an unliked doctor in an uncompromising position of his own…
And Bunny? The sharp-witted, foul-mouthed, violent copper who's just been made to retire from the force? Well, your guess is as good as mine. So far, not so good for the Mulchrone-Conroy-McGarry private detective agency.
We may not have Bunny, but we do have his 1980s Porsche 928S. And an ex-police dog, Maggie. Maggie is a brilliant addition to the team; what she lacks in police dog skills she makes up for in her drinking prowess. She is a great source of frustration to Paul, who even looks to find a new home for her. They're a real Turner and Hooch team. The most frustrating part for Paul? As a sidekick, Maggie isn't very vocal. Whereas in former days, Brigit would plan their adventures, Maggie doesn't say a word. She does, however, possess the ability to bite. Hard. I have a feeling this may come in handy for Paul…
Anyway, back to the plot. MCM have been tasked with finding out who Jerome Hartigan is having an affair with, after his nameless 'wife' in the red dress visits Paul. Hartigan just happens to be a member of a team of failed property developers, who have seemingly conned innocent citizens out of millions as their Skylark development bombs. All the while, Bunny is missing. Brigit is rightly worried; she missed his call on Friday evening and no one's heard from him since.
The three property developers are on trial, amidst a backdrop of chaos and disillusionment as activists, led by Father Franks, have taken over an old bank headquarters. Then there's the so-called Pùca, an Irish terrorist group that has emerged from nowhere. Things take a turn for the worse as these separate stories start to appear not so separate after the murder of Craig Blake, one of the property developers.
Deaths and riots follow, Bunny is still missing, Brigit and Paul still aren't on talking terms, and the police force aren't exactly getting to the bottom of all these cases either…
But one thing's for sure, Bunny McGarry's disappearance isn't a coincidence. Bunny's history is a colourful one too. As Brigit says, as a former detective who had set up his hurling team to help young men get out of difficulty, 'he's a good man'. It's just unfortunate that he will 'do bad things for what he thinks is right'. He must have history with the Skylark three; Brigit and Paul need to join forces to find this out in the hope of discovering his current whereabouts…
I really don't want to spoil the plot for you. Paul and Brigit get to uncover some extremely juicy crimes, even juicier than the Rapunzel plot. It's not just the clever crime plot that makes McDonnell's latest novel a joy to read; it's absolutely hilarious. From Gerry the radio DJ's outbursts interjecting every chapter (he reaaallly doesn't want to play that 'new one from Adele') to Paul and Maggie's attempts at being inconspicuous (this is where he calls Maggie 'Chardonnay' as a way of covering up her true doggy identity – cue tears in my eyes), McDonnell is a bit of a comedy genius.
In the first novel, it was Bunny's Gene Hunt-esque behaviour, extreme foul-mouth and haggard appearance that was truly funny, especially when you realised he was on the side of the law. With book two, we only get snippets of Bunny – usually in flashbacks – until the very last section of the book. These flashbacks also mean you need to pay attention to what you're reading! I was craving Bunny's reappearance, which made his return all the more shocking. The imagery that McDonnell uses surrounding Bunny's return is poignant too. He personifies 'darkness', which works to make Bunny's situation much more harrowing and isolating. I also love how he plays on the failure of Skylark and describes the situation as 'highly flammable. All it would take was one spark and the sky would burn'. It really does feel like one wrong move and we could lose our favourite characters.
McDonnell also taps into the social media revolution well. I sometimes cringe when I read characters mentioning Twitter and its ilk, but with McDonnell it's used well. I think I snorted when I read Paul's attempts to locate a taxi when he boasts of his 'seventy-eight followers on Twitter'. One tweet and he could irreparably damage an entire taxi firm! What's his Twitter handle because I want to follow?! There's also a shout out to the humble meme, which makes this outlandish plot relatable for moments at least!
Overall, I am thrilled that McDonnell doesn't fail to conjure his unique blend of crime and comedy – crimedy? – for Paul, Brigit and Bunny's second venture. Now, where is that third instalment?
The Day That Never Comes Reviewed by Abby
Have a read of our reviews of the first book in the trilogy – 'A Man with one of those Faces' and the prequel 'Angels in the Moonlight'
Purchase Links

Guest Post – It's a Fair Cop – The Day That Never Comes
Research is a bit like plumbing. Done well, you don't really notice it, but done badly and oh my God, what is that stink?
A research clanger can really pull someone out of a story. I know a fellow author who got a one star Amazon review for putting a safety on a gun that never had one. I myself took the hump when an author had a character in Ireland referring to the windswept moors. No Irish person has ever referred to the moors. Now people with the second name Moore on the other hand, we've got millions of them – but none of them have ever told anyone they're going out on the moors, windswept or otherwise.
The point is, research is invaluable but it is often a bit 'how long is a piece of string', in the sense that you're never finished it and if you're not careful, you can get yourself tied up in all kinds of knots.
My books are crime thrillers set in modern-day Dublin. I lived there for the first 25 years of my life and I regularly go back, so those things are in my favour. Unfortunately, and I'll never forgive them for this, my parents brought me up to be a law-abiding citizen and I've never looked good in hats, so I've been neither a criminal nor a police officer (we call them Guards btw – and none of them have ever been on a moor).
If you're writing about the British police, there is quite a lot of research material to use and as for the US – well every branch of law enforcement seems to have its own show on Channel 5. When it comes to the Irish police though, there isn't the same wealth of material. Eventually I hit on two main approaches.
Firstly, I needed a Guard. This proved trickier than you'd think. Unusually, in my large Irish family we don't have one member of the Garda Síochána, accountants on the other hand; we've got so many accountants I've lost count, which very much makes me the black sheep of the family. I asked on Facebook, then I asked on Facebook again and eventually a fellow comedian put me in touch with his brother, who has been a wonderful and patient source of real-life practical info. He also managed to pick me out in a crowded shopping centre from a picture he saw six months beforehand, so he is definitely very good at his job.
Secondly, there is a journalist called Paul Williams who is the authority on all things criminal that have occurred in Ireland, so much so that I wouldn't like to have to start his car every morning. His books are about the hunt for famous criminals but thankfully, he goes into enough detail that you can glean precious information about how the Guards operate.
Between the two of them, I hope I've managed to give my work an appropriate ring of verisimilitude so that the reader can focus on the story. Mind you, I've just used 'verisimilitude' in a sentence and I'm only 85% sure what it means, so maybe I'm an idiot who has just managed to stay lucky so far!
Now, I'm off to rob an armoured car, I just hope the judge knows what verisimilitude means if I have to use it in a legal defence.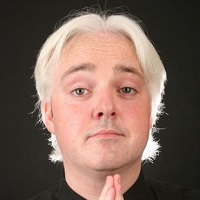 Caimh McDonnell is an award-winning stand-up comedian, author and writer of televisual treats.
In his time on the British stand-up circuit, he has firmly established himself as the white-haired Irishman whose name nobody can pronounce. He performs regularly at all the major clubs and is equally at home doing a set or acting as MC. He regularly supports Sarah Millican on tour and has also brought the funny worldwide, doing stand-up tours of the Far East, the Middle East and once, the near east (Norwich). He brings a new stand-up show to the Edinburgh festival pretty much every year, mainly as an excuse to eat things that've been deep fried.
Caimh is in great demand as a writer for TV. He has recently worked on the hit BBC2 show 'The Sarah Millican Television Programme' and written for comics on 'Mock the Week' and 'Have I Got News for You'. He also works as a children's TV writer and was BAFTA nominated for the CBBC animated series 'Pet Squad' which he created. He was a winner in the BBC's Northern Laffs sitcom writing competition, where he was lucky enough to be mentored by Craig Cash and Phil Mealey of 'Royle Family' fame.
Caimh is massively proud to be 'The Voice of London Irish'. Currently in his tenth season as a key part of the London Irish rugby club match day experience, he acts as the announcer in the Madjeski stadium in Reading, as well as conducting player interviews and writing for the programme. He was recently delighted to referred to as 'Appallingly Partisan' by the Rugby Paper, who seemed to be under the mistaken impression that he is sent in by the UN to seek a peaceful resolution to the match.
So, all-in-all, he manages to keep himself busy.
Have a read of our interview with Caimh – 'The Writing Life of: Caimh McDonnell'
Author Links