Environmentally Friendly by Elias Zanbaka – Book Review
Environmentally Friendly by Elias Zanbaka – Book Review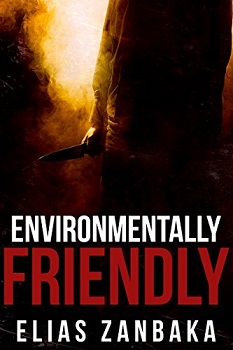 Environmentally Friendly
Author – Elias Zanbaka
Pages – 21
Release Date – 5th March 2016
Format – ebook
Reviewer – Stacey
I received a free copy of this book
Post Contains Affiliate Links

OUT OF SEVEN BILLION PEOPLE, ONE MAN HAS DECLARED WAR ON MOTHER NATURE AND PLANS TO BRING IT TO ITS KNEES.
OUT OF ALL THE CRIMINALS IN LOS ANGELES, HE'S THE NUMBER ONE TARGET BEING HUNTED BY THE LAPD TONIGHT.
AND OUT OF THE ENTIRE LAPD, ONE OFFICER IS HELL-BENT ON HELPING HIM COMPLETE HIS MISSION.

Environmentally Friendly is a short book of only 21 pages. As with all good short stories, we are introduced to our protagonist right from the very beginning, and in the thick of the action. There is no back-story, so you are left to discover what is going on, on your own.
The book is extremely fast-paced, and follows Sergeant Schaefer of the LAPD as he chases escapee, veteran Sergeant Major Alan Bushell, of the USA Army, after he breaks out of the psychiatric ward. Their battle is drawn out throughout Hollywood Boulevard.
Sergeant Bushell seems to be suffering from Post Traumatic Stress Disorder, and is keen on wreaking havoc, and taking on mother nature, after the loss of his platoon, in a freak natural disaster.
Sergeant Schaefer is the only officer intent and viable enough to bring Sergeant Bushells' destruction to an end, but what will the final outcome be?
The book is a quick read and took me less than half an hour, the first time to read. Yes, I read it twice! The first time I actually didn't understand what was happening. I knew that I had enjoyed it, and that I was happy to read it again. The second time I took it slower so that I could understand and absorb the plot better.
I commend all authors who write short stories, as trying to get people to enjoy the plot and the characters within a few pages must be done with precision. Elias certainly achieved this with this book.
If you are after an action-packed, suspenseful thriller then give this book a read. It might only be short, but it packs a punch.
Book Reviewed by Stacey
Purchase Links