The Chic Boutique on Bakers St by Rachel Dove – Book Review
The Chic Boutique on Bakers St by Rachel Dove – Book Review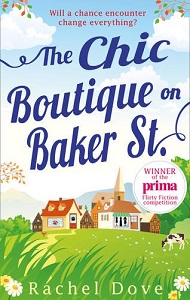 The Chic Boutique on Bakers St
Author – Rachel Dove
Publisher – Mills and Boon
Pages – 304
Release Date – 21st April 2016
Format – ebook, paperback
Reviewer – Stacey
I received a free copy of this book
Post Contains Affiliate Links

The perfect escape to the country…
Recently single and tired of the London rat race Amanda is determined to make her dreams of setting up an idyllic countryside boutique come true, and the picturesque village of West¬field is the perfect place to make a fresh start.
Local vet Ben is the golden boy of West¬field, especially to resident gossip Agatha Mayweather, who is determined to help Ben get his life back together after his wife left.
When a chance encounter outside the 'chic boutique' sets sparks flying between Amanda and Ben, Agatha is itching to set them up. But are Amanda and Ben really ready for romance?
The Chic Boutique on Baker Street is the debut novel from Rachel Dove, winner of The Prima Flirty Fiction Competition. You won't be able to resist this heart-warming romantic story set in an idyllic Yorkshire village, full of lovable characters and laugh-out-loud moments…as Amanda finds her way to a second chance at life and love. This is the reading escape you've been looking for!

After being fired from her high-flying career as a solicitor in the heart of London, and dumping her cheating boyfriend, Amanda opts for a complete lifestyle change and moves to a small Yorkshire village to open her own shabby chic boutique, 'A New Lease of Life', making bespoke handmade items.
She had hoped to settle into village life with ease, but one villager isn't happy to see her in his village.
Ben Evans, the village vet and owner of a dog grooming shop, next door to Amanda's shop, doesn't like change, and he certainly doesn't like outsiders coming into the town and setting up shop. He believes that Amanda will be a 'here today, gone tomorrow' kind of girl, and lets her know his feelings at every opportunity.
The townsfolk though have other ideas. They have seen the way the two of them look at each other when the others not watching, and headed up by Agatha Mayweather, the women set out to get the two together.
'The Chic Boutique on Bakers St', is a lovable, fun, and at times laugh out loud novel.
Amanda is a complete whirlwind. She is clumsy, yet elegant, moody yet kind, and doesn't like accepting other peoples' offers of help, especially Ben's.
She wants nothing more than to fit in with village life, having left the rat race behind. She is looking for a quiet life with a slower pace and thinks that she has found that with her own business.
She doesn't take too kindly to 'jumped-up' Ben, who she believes hates her and has no understand of why, although from their first encounter there is something about him that pushes her buttons.
Ben is the sexy male protagonist of the story, hurt by a past romance. He has no time for newcomers, especially Londoners who are here today and gone tomorrow.
He secretly does like Amanda, but would never admit it, and tries to push her away at every opportunity, although he does slip up now and again, cursing himself for letting his guard down.
The townsfolk are all wonderful secondary characters, each with their own story to tell that added depth to the book.
Agatha was my favourite. A feisty old woman, she is like the 'Lady of the Manor', with her big house, her two dogs Maisie and Buster, whom she calls her children, and an estate manager, Sebastian Taylor who is at her beck and call. Agatha and Sebastian have known each other since primary school and are dear friends, though Seb would love the two of them to be much more.
The Chic Boutique on Bakers St is a sweet romance which has that feel good factor to it. It will warm your heart even on those cold and frosty days. It can be infuriating at times, the way you can see that Ben and Amanda feel about each other, but both are too pig-headed to admit it.
My only criticism was that the ending felt a little rushed and I would have loved to see it play out a bit longer.
Book Reviewed by Stacey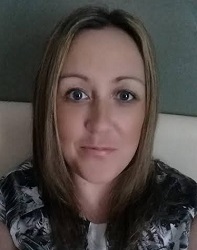 Rachel Louise Dove is a mum of two from Yorkshire. She has always loved writing and has a had previous success as a self-published author. Rachel is the winner of the Mills & Boon Flirty Fiction competition. Her first novel, Crossing Life Lines is out now in Kindle and paperback format.