The Captive by Deborah O'Connor – Book Review
The Captive by Deborah O'Connor – Book Review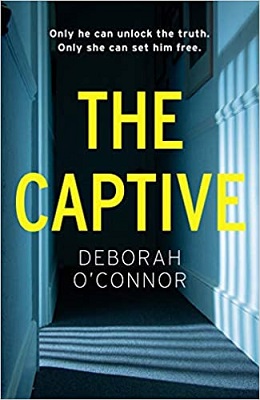 The Captive
Author – Deborah O'Connor
Publisher – Zaffre
Pages – 216
Released – 7th January 2021
ISBN-13 – 978-1838772659
Format – ebook, paperback, hardcover, audio
Rating – 5 Stars
I received a free copy of this book.
This post contains affiliate links.


Synopsis
Hannah knows the cage intimately. Small, the size of a shopping centre parking space. A bed, a basin, a table and chair. A hatch and metal drawer through which to exchange food and other items.
Then there's him. Always there on the edges of her vision, no matter how hard she tries to block him out.
Every day, the same thoughts run through Hannah's mind:
What if he speaks to me?
What if he hurts me?
What if he gets out?
Set in a world where convicted criminals are to live in cages in their victim's homes, to show them who they have hurt and to try to rehabilitate them, as well as saving the government some money. The book opens with cake maker Hannah awaiting the arrival of Jem, the person convicted of killing her police officer husband. The cage has been set up in the room where Hannah spends the most time, her Kitchen.
Hannah doesn't want Jem in her house. She doesn't want to spend time in the same room as the man who killed her husband, even though Jem has stated he wasn't guilty the whole way through his trial and is still protesting his innocence to Hannah. She is scared of him but is unwilling to let him side that side of her.
Over time as Jem protests his innocence, he provides Hannah with information about her husband, which makes her dig deeper into his life, a life she never knew he lived. What was he hiding? And by searching for the truth has Hannah now placed herself in danger too?
Wow, I mean could you imagine having to spend every day in the same house as the person who has violated you or someone you love? Having to talk to them, feed them, they are there constantly reminding you of the horrid ordeal in your life. It is unthinkable, but author Deborah O'Connor brings this world to life with her all too realistic take on a sham government that cuts costs by making people have to live like this.
Hannah thought she had a perfect life, the life of a police officer's wife. Happy and content, living her dream in a place where million-pound mansions are the norm but her husband's job came with some perks and so she lives amongst them until that fateful night her husband was murdered. Now she is living a nightmare, one where she has to live in the same house as his murderer.
I loved the build-up in the multi-layered plot that was filled with twists that kept me engrossed and eager to find the truth. It was fascinating to watch Hannah go from this mild and meek woman to a woman determined to uncover the truth and find out about her husband's secret life.
As I began The Captive I was unsure how it was labelled a thriller, but as the book progresses is became darker and more sinister than I imagined. The tension rose and the pace quickened. Such an amazing read, one that has left me breathless and thankful that the world within Deborah O'Connor's mind isn't real.
Purchase Online From:
---
What did you think of 'The Captive'? Share your thoughts in the comment section below!
---
The above links are affiliate links. I receive a very small percentage from each item you purchase via these link, which is at no extra cost to you. If you are thinking about purchasing the book, please think about using one of the links. All money received goes back into the blog and helps to keep it running. Thank you.
Like us on Facebook – Tweet us on Twitter – Pin us on Pinterest