The Lonely Hearts Crime Club by Tanya Bullock – Book Review
The Lonely Hearts Crime Club by Tanya Bullock – Book Review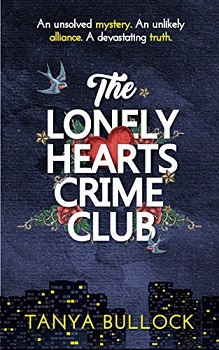 The Lonely Hearts Crime Club
Author – Tanya Bullock
Publisher – Blackbird Digital Books
Pages – 204
Released – 16th April 2019
Format – ebook, paperback
ISBN-13 – 978-1916426818
Reviewer – Stacey
Rating – 3.5 Stars
I received a free copy of this book.
This post contains affiliate links.
An elderly resident of an inner-city tower block is brutally attacked and left for dead. Her neighbours, a pregnant alcoholic, a vulnerable youth, a failed actress and a cameraman with a dark secret, are thrown together in their search for answers.
Misfits and loners, they are forced to confront uncomfortable realities about themselves and each other, as their investigation leads them towards the shocking finale.
Elderly resident Aggie is attacked in her home on the 19th floor of a block of flats and left for dead, presumably the attacker thought he had killed her. Some of the other residents of the tower block come together to help find out who committed the crime, including, Pregnant alcoholic Ella, Autistic William, Cameraman Ethan and Aggies friend Birdie an aged failed actress.
The team soon realise that they each saw something the night of Aggies attack and use what little skills they have to work out who the attacker was.
The Lonely Hearts Crime Club was a real mixed bag for me. Firstly I'm not normally a lover of multi-POV novels, but this one actually didn't bother me as each of the characters had their own unique personalities and were enjoyable to read about.
However, the first half of the book was so slow. Whilst I enjoyed reading about the characters, there was just a little too much information about each of them before anything actually happened. Each chapter was told from the POV of a different resident and then it followed a pattern of Morning – Afternoon – Evening. i.e Ella Monday Morning, William Monday Morning, etc, then Ella Monday Afternoon, William Monday afternoon and so on. By 50% the way through Aggie hadn't long since been found but the residents still hadn't got together to form their little group.
Had it not been for the second half of the book, I'm sorry to say I would have given up. I wanted the story to be more about the crime club, their zest for finding the killer, I didn't want to know every little detail about the characters. Sometimes less is more, and I would have to say so in this case.
The second half was great, I was kept on the edge of my seat, I enjoy the interactions of the residents and their skills at working out whodunit.
If you like books with a lot of character development and books that go slow then you will most likely love this whole book. For me, it's a tale of two halves, and the latter half wins.
Reviewed by Stacey
---
Purchase online from:
---
About the Author

Tanya Bullock is a college lecturer, writer and award-winning filmmaker. She lives in the UK with her husband and two young children. She has a passion for foreign culture and languages (inherited from her French mother) and, in her youth, travelled extensively throughout Australia, America, Asia and Europe.
As a filmmaker, she has gained local recognition, including funding and regional television broadcast, through ITV's First Cut scheme, two nominations for a Royal Television Society Midlands Award, and, in 2010, a Royal Television Society Award in the category of best promotional film. On maternity leave in 2011 and in need of a creative outlet, Tanya began to write That Special Someone, the story of a mother's quest to help her learning-disabled daughter find love. It was a finalist for The People's Book Prize and The Beryl Bainbridge First Time Author Award 2016.
Her second novel, Homecoming, a love story with an unexpected twist, was published in 2016. The Lonely Hearts Crime Club is Tanya's third novel. A mystery thriller with a shocking finale, it will be published in the spring of 2019. All Tanya's novels are published by Blackbird Digital Books.




---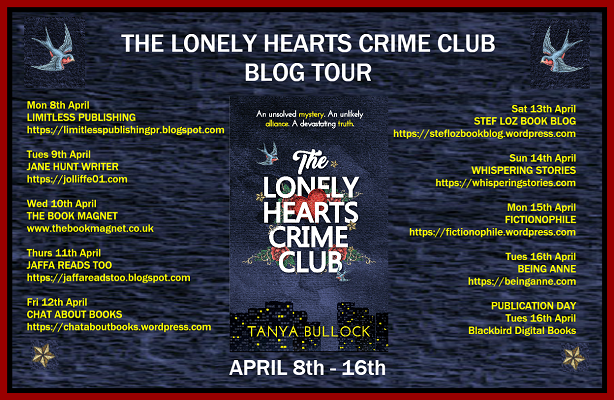 The above links are affiliate links. I receive a very small percentage from each item you purchase via these link, which is at no extra cost to you. If you are thinking about purchasing the book, please think about using one of the links. All money received goes back into the blog and helps to keep it running. Thank you.
Like us on Facebook – Follow us on Twitter