"I love it when a plan comes together" by Mark Stibbe
"I love it when a plan comes together" by Mark Stibbe
This week we welcome author Dr. Mark Stibbe to the blog with his Guest Post – "I love it when a plan comes together".
Dr Mark Stibbe is an award-winning author and full-time professional writer who has over forty popular nonfiction books and five academic books in print. He has also ghost-written nearly twenty books and recently written a Healthy Fathering course for incarcerated men.
His first book was a collection of poems published when he was just 16. Many of his popular books have been bestsellers and his academic books are required reading in universities and seminaries all over the world. He lives with his wife Cherith and Black Labrador Bella.
"I love it when a plan comes together"
Remember that? I used to love watching The A-Team. The original TV series, that is. Not the movie reboot. Each story followed a similar formula, with A-Team members playing their part to implement a perfect plan. It was always satisfying, ending with Hannibal uttering the catchphrase repeated through five seasons, "I love it when a plan comes together."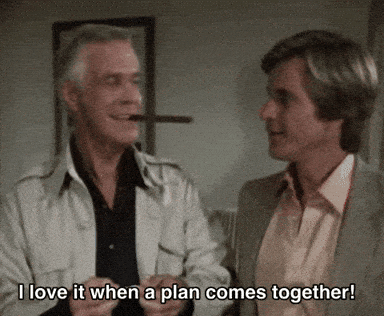 In recent years, I've moved from feeling frustrated to fulfilled. Much of that was because in my previous working life I had very little time to do the thing I love most – writing books. Writing was squeezed out of my diary. The best was sacrificed on the altar of the good.
In 2012, I made a crucial decision. I would focus on writing alone and I would concentrate on fiction.
This was a brave move, braver than I realised at the time. It meant starting again from scratch and entering a start-up phase. That's risky. It also meant leaving the haven of nonfiction writing – where I was an established voice – and heading for the unchartered waters of fiction. But it was on these choppy seas that I discovered Thomas Pryce, the hero of the first in a series of Napoleonic spy thrillers. Thomas Pryce, the fictional Vicar of St Leonard's Upper Deal, is a clergyman who becomes a spy in the fledgling British Secret Service, established in the 1790s.
In portraying Pryce, I drew upon my twenty-five years as a Vicar in the Church of England – years in which, like my hero, I tried to navigate between the Scylla of my public and moral certainties and the Charybdis of my private agonising.
In this respect, I chose to do the right thing – which is to write about what I knew.
And that's why I also chose the French Revolutionary and Napoleonic Era. I had been a student of this period of history ever since I was a boy. This interest began when I was eight years-old, after I was sent away to a boarding school in Berkshire.
If you've read my book, Home at Last (about recovering from boarding school pain), you'll know something of my story. What you won't know is that in my first few weeks at prep school, I found refuge in the books in the school library. One of those was about France during the Terror.
I was hooked!
I remember reading this history book with wide eyes and a gawping mouth. Here was my story, at least a hint of it. I was living in a reign of terror too, only my terrorist was a ferocious and sadistic master with a cane, not the Committee of Public Safety and the guillotine.
Those days in the library propelled me into a love for the period 1789-1821 – the timeframe I shall be recreating in the Thomas Pryce series. I have never lost that first love. In 2015, when we celebrated the bicentennial of the Battle of Waterloo, I was like a child in a sweet shop.
In all of this, I'm experiencing today what I call 'convergence.' All the different, separated strands of my life are forming into a single, meaningful whole in which I'm doing what I'm supposed to be doing, focusing on what I'm most interested in, writing about what I know.
This is convergence – the marriage of your passion and your profession.
Don't you just love it when a plan comes together?
---
The Fate of Kings


The Thomas Pryce Series Book One
Author – Mark Stibbe & G.P. Taylor
Publisher – Malcolm Down Pub
Pages – 338
Release Date – 3rd November 2017
ISBN 13 – 978-1910786758
Format – ebook, paperback
1793. As the Terror begins to cast a great shadow over France, Thomas Pryce, the new Vicar of Deal, crosses the Channel to find the missing parents of his beautiful French wife. Facing grave dangers, he makes his way to Brittany where he not only discovers the fate of his in-laws but also uncovers a plot which threatens to topple the British monarchy. Fighting against a sinister secret society in a race against time, Pryce battles to thwart the plans of a Parisian spymaster and his agents in London.
The Fate of Kings is the first in a series of gripping spy thrillers that will engross readers of C.J. Sansom, Dan Brown, as well as the many avid watchers of Poldark and Grantchester. In the first years of the British Secret Service, Thomas Pryce truly is the original James Bond.
Online Purchase Links
Author Links
www.thomaspryce.co.uk
@markstibbe
Facebook
Blog posts straight to email via Bloglovin – Like us on Facebook – Follow us on Twitter