The Perfect Guest by Paula Metcalf – Book Review
The Perfect Guest by Paula Metcalf – Book Review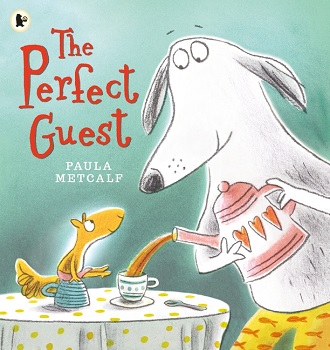 The Perfect Guest
Author – Paula Metcalf
Publisher – Walker Books
Pages – 32
Release Date – 2nd February 2017
ISBN-13 – 978-1406376173
Format – paperback
Reviewer – Stacey
I received a free copy of this book
Post Contains Affiliate Links

From children's author and illustrator, Paula Metcalf, comes a witty and fun-filled story of friendship.
Walter is really a very neat and tidy dog. His house is his pride and joy and he gets quite nervous when guests come round… When his best friend Pansy asks to stay, though, Walter is so excited! She's just a teeny weeny squirrel after all, how much trouble can she possibly be?!
But when Pansy tries her very best to be helpful things just seem to keep going wrong! Nothing – from Walter's trousers to his curtains to his beloved brand-new teapot – is safe from accident-prone Pansy! Is she turning out to be the worst guest there ever was?

Walter, the dog, is very house proud. He loves his home and likes to keep it spick and span. He also loves his new sparkly teapot.
One day his friend Pansy, the squirrel, comes to stay. She arrives early before Walter has finished tidying his house, so Pansy offers to help.
Pansy though is a bit clumsy, and makes a mess of the jobs she is given, and breaks his new teapot. Needing to get her out of the house, Walter asks her to do a job outside, but Pansy can't even do that right.
What is Walter going to do? He loves his house and he's not impressed with how Pansy has treated it, but he loves Pansy too.
The Perfect Guest is a lovely, short children's book about friendship. The story is about how not all friends are perfect, but they are your friends, and you need to see past their faults and learn to accept them.
The illustrations are bold, colourful and eye-catching. I love that they were drawn in a crayon effect.
The Perfect Guest would make a wonderful bedtime story, or for a class read. One that children will enjoy over, and over again.
Book Reviewed by Stacey
Purchase Links