My Mum is Fantastic by Nick Butterworth – Book Review
My Mum is Fantastic by Nick Butterworth – Book Review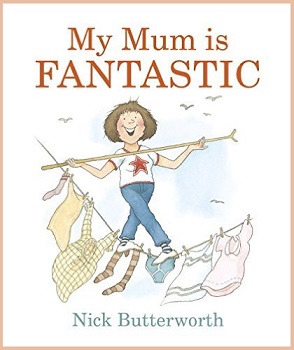 My Mum is Fantastic
Author – Nick Butterworth
Publisher – Walker Books
Pages – 26
Release Date – 2nd February 2017
ISBN-13 – 978-1406374766
Format – board book, paperback
Reviewer – Stacey
I received a free copy of this book
Post Contains Affiliate Links

The mum in this book is truly fantastic. She's a brilliant artist, she can balance on a tightrope, she can swim like a fish, do amazing stunts on a bike and she can even tame wild animals … in fact, there's very little this astounding mum can't do.
The book ends: "It's great to have a mum like mine. It's fantastic!" And no one can argue with that!

My Mum is Fantastic, is one of a collection of books about wonderful family members, by renown author Nick Butterworth.
The book is a celebration of one young boy's mum, and what he finds fantastic about her. He loves that his mum can make the best parties in the world, can mend anything, and that she can swim like a fish, amongst many other fantastic things that she can accomplish.
I like that there are unusual things that his mum can do too, such as walk on a tightrope, or do amazing stunts on a bike. I can see children asking their mums if they can do these things, and if not, why not.
The illustrations fit the book perfectly, and represent every aspect of what the boys mum can do, so the book doesn't just tell you what his mum is good at, but shows you too.
Being a board book, this would be perfect for little children, especially with the rounded edges so that they can't hurt themselves on the corners.
My Mum is Fantastic is a lovely book for a younger child that they will enjoy reading, or just looking at the pictures. It would also make a wonderful present for mums to receive on their birthday or Mother's Day from their son or daughter children.
Book Reviewed by Stacey
Purchase Links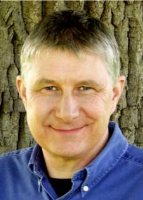 Nick Butterworth was born in north London in 1946 and grew up in a sweet shop. As a boy, he always loved drawing and had an insatiable appetite for stories, two passions which have continued into adulthood. After a conjurer made an appearance at one of his birthday parties he also developed a fascination with magic. (His own prowess as a conjurer was called into question by his daughter, just before her eighth birthday. "Dad, you're not going to do your magic at my party again this year, are you?" she said.)
On leaving school, he worked as a graphic designer and in 1970, he formed his own consultancy with three others, including long time friend and fellow author Mick Inkpen who, "joined the studio during his gap year and just, sort of, stayed."
In 1980, Nick decided to concentrate on illustration. His first book for children, B. B. Blacksheep And Company, was published the next year. His first writings for children appeared in the Sunday Express Magazine in the shape of a regular feature called Upney Junction.
With the advent of breakfast TV, he became a regular presenter on the TV-AM children's programme Rub-a-dub-tub, telling stories and illustrating them live.
Nick's books, have sold over twelve million copies around the world in more than twenty-five foreign languages. They have featured frequently on short lists and won several prestigious awards, including Nick's favourite, The Nestle Gold Award for The Whisperer.
Percy the Park Keeper, who accounts for some seven million of Nick's total sales, first appeared in 1989 in One Snowy Night, and has been the subject of a series of animated films for television. Nick is now a partner in a production company, Snapper, with the aim of producing high quality animation for children's television. Nick's Q Pootle 5, a little alien character, is in development.
Nick lives in Essex and is married to Annette who is also a writer. They have two grown up children Ben and Amanda and two grandchildren, Harry and Thomas. Nick feels very much at home with children of all ages. He enjoys visiting schools and book events whenever he can. He has also gained a reputation as an entertaining and inspirational speaker at more grown up conventions and gatherings of parents and teachers etc, and is a frequent speaker at major book festivals such as Edinburgh, Cheltenham and The Hay.
Author Links