The Lost Book by Margarita Surnaite – Book Review
The Lost Book by Margarita Surnaite – Book Review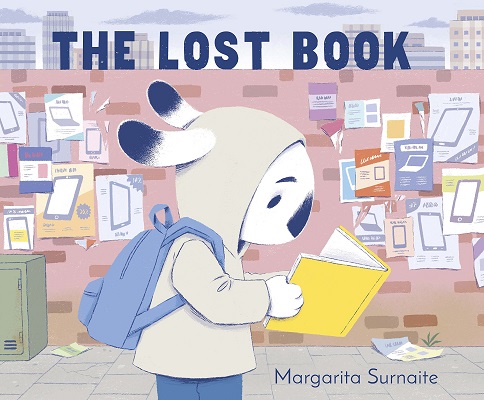 The Lost Book
Author – Margarita Surnaite
Publisher – Andersen Press
Pages – 32
Released – 5th March 2020
ISBN-13 – 978-1783448814
Format – paperback, hardcover
Review by – Stacey
Rating – 3 Stars
I received a free copy of this book.
This post contains affiliate links.


Henry doesn't understand why everyone in Rabbit Town loves books, he much prefers real life adventures. That is, until he discovers the Lost Book. The Lost Book keeps him company, makes him feel less homesick and leads him on an exciting adventure with a new friend.

Henry doesn't like reading and everyone in Rabbit Town loves to read, he prefers to enjoy himself with actual activities. One day he comes across a book that isn't like the ones in his town. He decides to try to find the owner of the book and ends up in the real world where humans exist where he meets a little girl.
The two have fun together before going to get something to eat at a cafe and then when it is time to go Henry gives the little girl the book before heading home.
The idea behind the book is really interesting, however, I'm a little confused as to why it seems to come across that reading is bad for you and that it is something humans don't do, nor do they notice anything around them as every one of them is on their phones or tablets, even the little girls dad who doesn't notice that he has a rabbit tagging along.
I do get the message that some people use their phones far too much and that they are often in the virtual world rather than in the real world, I also get the message that perhaps parents should try and be a bit more noticeable and attentive of their children when they are with them than spending time on their phones, texting, Facebooking, etc.
I am unsure though why the book comes across as reading is the same as using a phone in the rabbit world, although, the rabbit world is all green and summery whilst the human world is dark and grey, perhaps the author is trying to tell us that reading is much better than looking at screens, I think maybe this should have been better explained rather than subtle hints in a kids book. Also, it seemed strange that a young rabbit could just walk far from his house into a big city, talked to strangers and went off with one, even if she was a little girl, before returning home.
The book does have some amazing artwork and the text was kept to a minimum so it would be a great book for new learners to practice their reading skills on. I also enjoyed the ending which was cleverly done.
Book Reviewer – Stacey
---
Purchase online from:
---
About the Author

Margarita Surnaite is a children's book author and illustrator based in Cambridge, UK. She has a master's degree in Children's Book Illustration from Cambridge School of Art. Margarita illustrated "Meditate with Me" written by Mariam Gates and published by Dial Books for Young Readers in 2017.
Her debut author-illustrated picture book "The Lost Book" was published by Andersen Press in 2019.




---
What did you think of The Lost Book? Share your thoughts in the comment section below!
---
The above links are affiliate links. I receive a very small percentage from each item you purchase via these link, which is at no extra cost to you. If you are thinking about purchasing the book, please think about using one of the links. All money received goes back into the blog and helps to keep it running. Thank you.
Like us on Facebook – Tweet us on Twitter – Pin us on Pinterest