Leonardo Da Vinci in 30 Seconds by Paul Harrison – Book Review
Leonardo Da Vinci in 30 Seconds by Paul Harrison – Book Review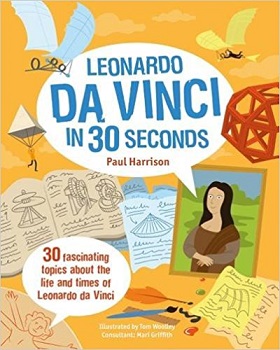 Leonardo Da Vinci in 30 Seconds
Author – Paul Harrison
Publisher – Ivy Press
Pages – 96
Released – 7th March 2016
ISBN-13 – 978-1782403166
Format – Paperback
Reviewer – Stacey
Rating – 4.5 Stars
I received a free copy of this book
Post contains affiliate links
A fun introduction to one of history's most brilliant minds, this title is the first biography within the Ivy Kids 30 Seconds series. Children will learn about the life of the original Renaissance man, and will discover how Da Vinci's influence, from his masterpiece paintings to his innovative inventions, has shaped art and culture in the modern world.
Each spread is presented in a neat 30-second soundbite, supported by a 3-second flash summary and full-page, colourful illustration. Active missions support the topics and encourage kids to find out more. With stunning artwork, the attention-grabbing format is engaging and immediate, introducing readers aged from 8 up to the legacy of a genius.

Leonardo Da Vinci in 30 Seconds is an informative children's book that not only introduces them to the great artist who painted the Mona Lisa, but also Leonardo the inventor, mathematician, sculpture, etc.
The book is split into sections regarding different eras of Leonardo's life. Each section begins with a glossary of words to help children fully understand the information. Starting with his early life, the book explains how he was born in a place called Vinci, near Florence and was an illegitimate child, so he wasn't allowed to attend university, nor work in certain professions. His father found him work as an apprentice for the artist Andrea Del Verrocchio. This is where he discovered he was a talented artist.
Throughout the book children get to learn not only about Leonardo's life, but also his work in the different fields. They will also get to learn about how historians know so much about him, even though there isn't much left of his work. This book truly is a fascinating read.
Children will be amazed that a man who lived so long ago (1452-1519) had some ideas for inventions that were built many years later, such as the helicopter, tank, parachute.
This is a great book that's not only informative, but each page is surrounded by superb illustrations. Some of the pages also provide small tasks for the children to do, such as Make a Self-Powered Vehicle.
The only tiny little issue I had with the book is with the title. It takes longer than 30 seconds to read each page – I know, I timed myself (yes, I'm that sad). My fastest page read was 39 seconds. For a child to truly take the information in they need to read slowly, to help them absorb the information and for their brains to process it. I do understand about the title being catchy, but in my personal opinion it isn't strictly accurate. Apart from the title, the book is superb and definitely worth a read.
Reviewed by Stacey
---
Purchase online from:
---