Nature Storybooks by Various Authors – Book Review
Nature Storybooks by Various Authors – Book Review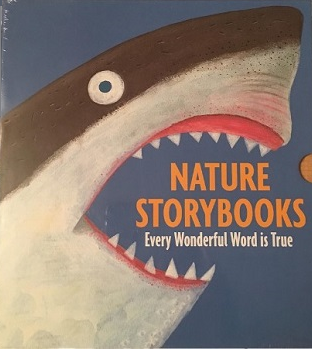 Nature Storybooks
Every Wonderful Word is True
Author – Various Authors
Publisher – Walker Books
Pages – 316 (combined pages)
Released – 16th November 2017
ISBN-13 – 978-1406380446
Format – Paperback
Reviewer – Stacey
Rating – 4 Stars
I received a free copy of this book
Post contains affiliate links
Full of heart-warming moments and animal antics, this 10-book nature storybooks collection is bursting with charming stories about all kinds of cute critters.
Full of jaw-dropping facts, children will get to find out about how some sharks are no bigger than a chocolate bar; what an Emperor penguin gets up to during a bitterly inhospitable winter; and how a tiny sea turtle grows and grows before heading back home to become a mother.
Covering the life cycles of various animals in a narrative style, these are fun and fascinating books for little nature lovers.
The books come in a beautiful slipcase and are perfect for any young animal lovers.
The ten books are:
Big Blue Whale by Nicola Davies
Caterpillar Butterfly by Vivian French
The Emperor's Egg by Martin Jenkins
Growing Frogs by Vivian French
Ice Bear by Nicola Davies
One Tiny Turtle by Nicola Davies
Surprising Sharks by Nicola Davies
Tigress by Nick Dowson
Walk with a Wolf by Jannie Howker
Yucky Worms by Vivian French

The Nature Storysbooks is a collection of ten paperback books by various authors. I've decided to look at them individually rather than a collection of ten. Each book opens with some information about each animal and at the end there are a couple of paragraphs about how and why the authors became interested in the animals they have written about.
The Nature Storybooks work perfectly together and will give young children such joy to have their own collection of books on subjects that they will love. They also will hopefully pick up lots of factual information too.
Big Blue Whale by Nicola Davies – 32 pages
Big Blue Whale is a beautifully illustrated factual book all about the life of a Blue Whale. The book opens with a message from the author about how the blue whale is endangered and less than 10,000 of them are living in the world today after they were hunted (they are now protected and hunting them is banned).
Each double page teaches something new about the whales, but not in a preachy way. The book follows two children as they look at the whales. Over the course of the book they learn how big the whale can grow to, how heavy they can be, what they eat, how they breath. Everything a child could want to know about Blue Whales is covered in this book. I'll be perfectly honest with you, even I didn't know some of the facts – Did you know that they don't have teeth? Well I didn't.
This book is perfect for any child who is interested in nature. It would also be a great book to use in a classroom, where the class could do a topic on them. There is even a section at the back which the author has included for teachers and how the book supports KS1-2 English and KS1-2 Science.
Caterpillar Butterfly by Vivian French – 32 pages
Caterpillar Butterfly is about a young girl learning from her Grandad about caterpillars and how they become butterflies. From tiny caterpillar eggs, to their changing bodies, onto the pupa and then the end result being a beautiful caterpillar.
The factual information was told in a story. Whilst the story was pleasant enough, we never learn the girls name, so it felt a little impersonal. I also had an issue with the illustrations. There were lovely, but they were dull, colour wise. They also had a roughness to them which I wasn't keen on. Another issue I had with the book was that on the pages was writing in various place telling you information. This was written in small text and light in colour. I actually missed a few of them the first time I read it.
Overall the plot is nice enough, there is a lot of factual information and the book would work well in a classroom, in fact it has been written with the classroom in mind. Just could of done with brighter illustrations and more vivid text.
The Emperor's Egg by Martin Jenkins – 32 pages
The Emperor's Egg tells the story of how the Emperor Penguins live in the Antarctica, the coldest and windiest place on earth. In this factual book told in a fun documentary style manner children will learn all about how the Emperor Penguins are the tallest penguins in the world and how they are the only ones that breed in mid-winter.
I can see children being amazed that once the mummy penguin has laid her egg she gives it to the daddy penguin to look after for the next few months whilst she goes off to swim in the sea, returning after the egg has hatched.
The book is filled with absolutely beautiful, bold, colourful illustrations that fill each page. There are a lot of facts throughout, some within the main writing, others dotted around the book in short sentences.
This has to be one of the loveliest children's books that I have ever read.
Growing Frogs by Vivian French – 32 Pages
Growing Frogs is a fun and interesting way for children to learn all about frogs and how they begin their life, to becoming fully grown frogs. The book opens with a mum and a little girl reading a story about frogs that got bigger and bigger. The mum asks the little girl if she would like to learn about frogs. Of course she said yes.
The two went into their garden where there was a pond with frogspawn in it. They put a small amount in a bucket with pond water, pond weed and stones and took it home, transferring it into a fish tank. Over the next few weeks the little girl checked on them over and over again and watched them become tadpoles and then grow into frogs.
Not only does the book provide a great story and factual information, it also gives you all the information you need to collect your own frogspawn and how to look after it, and what to do once they have turned into frogs.
The book is filled with full page illustrations that are brightly coloured and vividly stand out. They make the story come to life with the documented pictures of every stage of the evolution from frogspawn to frogs.
Ice Bear by Nicola Davies – 32 Pages
The Ice Bear is a factual book about the Ice Bear, otherwise know as, White Bear, Sea Bear, Nanuk, or more commonly, Polar Bear. The book covers lots of information from, where they live, how they stay warm, having pups etc.
Whilst there were a lot of facts, I can't say I was that impressed with the book as it was bland. The images really lacked that vividness and they were really plain and if I'm honest, quite boring. I feel like there was a lot of emphasis on trying to get the illustrations as life like as possible that the illustrator missed the fact that this is a young children's book.
Shame really as I've read and reviewed a few Nicola Davies books and the rest have been superb.
One Tiny Turtle by Nicola Davies – 28 Pages
One Tiny Turtle is a tale of a sea turtle called a Loggerhead Turtle (there are seven different species of sea turtle). These turtles are wanderers, they swim in all of the seas and travel far and wide.
Nicole Davies will capture the hearts of young children with this fascinating book containing lots of factual information surrounded by the most exquisite illustrations that fill each and every page.
It reads documentary style, but in a way that captivates you and has you reading about these reptiles which are very rarely seen.
Surprising Sharks by Nicola Davies – 32 Pages
Surprising Sharks is a look at lots of different types of sharks and how not all of them are scary and eat people, in fact most eat just fish and not humans. Out of 500 different kinds of sharks only 30 of them have ever attacked a human and only three are know to have attacked regularly – Great White, Bull and Tiger Sharks. On average there are around six people each year killed by a shark, where as humans killed around 100 million sharks yearly.
The book opens with a look at some fascinating sharks, including the 'Lantern Shark' which is just bigger than a chocolate bar. It is called the Lantern Shark as it can emit light from its stomach. There is also a variety of shark called a Swell Shark that when scared swallow water and blow up to three times their size.
The author through illustrations shows children what the different sharks look like and each of their names. There is also two double pages that are a bit like x-ray's to look at the outside and inside of a sharks with actual information on different body parts.
This book is a great introduction in to the life of a shark and the different varieties there are in the world. It is very informative and the illustrations are divine and work perfectly with the facts.
Tigress by Nick Dowson – 32 Pages
Tigress is about a female tiger and how she looks after her cubs in the wild including, how she keeps them safe from predators, what happens when they are old enough to hunt. Plus at what age they leave their mother's side and venture off into the world alone to start their own lives.
The book is adorned with lots of orange, black and green colours and the illustrations are quite beautifully drawn. Children who love animals, especially those with a fascination about tigers will love this short, cute book.
Walk with a Wolf by Janni Howker – 32 Pages
This book I was looking forward to as I have a real love for wolves. I adored the look of this book with its illustrations that make the wolves come alive. I also loved how it is written like more of a storybook, than a factual book.
However, I thought the information was a bit lacking and that there are so many wonderful facts about wolves that there was certainly room to add more, and keep it just as interesting.
As this book is for little children though, I'm sure they would love it just for its story and illustrations alone.
Yucky Worms by Vivian French – 32 Pages
Yucky Worms tells the story of a little boy who is helping his Gran in her garden and digs up a worm from the soil. He tells his Gran that it is yucky and to throw it away, but his Gran decides to teach him all about worms instead.
She teaches him how they move, what they eat, where their home is and about how good they are for the plants.
I think this book is really informative and I can see little children wanting to go into their gardens and find a worm just to take a closer look at one. The full page illustrations are quite elegantly drawn and make a book about worms exceptionally eye catching, interesting and not one bit yucky!
Reviewed by Stacey
---
Purchase online from:
---