The Second Cup by Sarah Marie Graye – Book Review
The Second Cup by Sarah Marie Graye – Book Review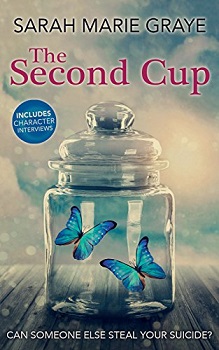 The Second Cup
Author – Sarah Marie Graye
Publisher – Createspace
Pages – 244
Released – 6th October 2017
ISBN-13 – 978-1978030077
Format – ebook, paperback
Reviewer – Stacey
Rating – 5 Stars
I received a free copy of this book
Post contains affiliate links
Would your life unravel if someone you knew committed suicide? Theirs did.
Faye's heart still belongs to her first love, Jack. She knows he might have moved on, but when she decides to track him down, nothing prepares her for the news that he's taken his own life. Faye is left wondering how to move forward, and whether or not Ethan will let her down again.
And when she tells her friends, the news ripples through their lives too.
Abbie finds herself questioning her marriage – and wondering if she was right to leave her first love behind. Poor Olivia is juggling her job and her boyfriend with supporting her friends and trying to deal with a death of her own. And Jack's death has hit Beth the hardest – even though she never knew him. Is she about to take her own life too?
While the four friends take it in turns to explain what happens after Jack's suicide, third-person flashbacks are skillfully interwoven to add a real richness and depth to this heart-wrenching story.

The Second Cup is a heart-wrenching tale of the devastation that depression can cause, not only for the sufferer, but for those around them too, starting with the suicide of Jack. Throughout the book you get to witness first hand the domino effect that his death had on his friends, Faye, Abbie and Olivia as we get to read about how their life changed after his death.
I'm not normally a lover of multiple POV's, in fact, I try to stay away from them as much as possible. I'll be perfectly honest had I realised at the time that this book was told through multiple voices I most likely wouldn't of read it, meaning I would of missed out on a brilliant piece of literature.
The story is emotional, and I can quite honestly say you might need a tissue with you when reading, as the tears can stream at a moments notice. Some of the scenes made me feel like I had been punched in the stomach, the writing is that raw.
Every time I tried to put it down I was drawn back to the book, it had most definitely hooked me. It's not an easy read by any means. It is a difficult subject to write about, but Ms. Graye is obviously very knowledgeable on the subject matter and has created this beautiful story set in the world of mental health and depression with care and compassion.
I love how the author ends the story with the final chapter told from Jack's POV, giving you a chance to witness his final moments.
Reviewed by Stacey
---
Purchase online from:
---
About the Author

Sarah Marie Graye was born in Manchester, United Kingdom, in 1975, to English Catholic parents. One of five daughters, to the outside world Sarah Marie's childhood followed a relatively typical Manchester upbringing… until aged 9, when she was diagnosed with depression.
It's a diagnosis that has stayed with Sarah Marie over three decades, and something she believes has coloured every life decision.
Now in her early 40s, and with an MA Creative Writing from London South Bank University (where she was the vice-chancellor's scholarship holder), Sarah Marie has published her debut novel – about family, friendships and mental health.





---