The Boys by Lauren Ace – Book Review
The Boys by Lauren Ace – Book Review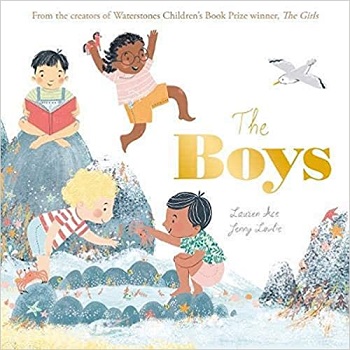 The Boys
Author – Lauren Ace
Illustrator – Jenny Løvlie
Publisher – Caterpillar Books
Pages – 32
Released – 1st April 2021
ISBN-13 – 978-1838911591
Format – hardcover
Rating – 5 Stars
I received a free copy of this book.
This post contains affiliate links.


Synopsis
The boys had been friends for as long as they could remember and a little while before that. They were like brothers.
Follow the adventures of four boys as they grow up, forming bonds of friendship to last a lifetime – even if they are occasionally put to the test…
From the creators of the Waterstones Children's Book Prize winner, The Girls.
The Boys follows the lives of four friends Tam, Rey, Nattie, and Bobby who were so close they were more like brothers. They were very different and enjoyed different things but when they were together they were a team.
As the years went by things stood in the way of their friendship, but they soon realised that they needed each other and that although their lives had gone in different directions they shared a special bond and would always be there for one another.
To me, this book felt like it had two parts to it for children to learn from, friendship and caring for one another and also the future and holding on to good friends who will make you laugh, be there for you, and listen to you when you need them.
I loved the progression throughout the story of the boy's lives from little children to adults with their own family's and yet at every stage showing the reader why their friends will be needed.
The book is perfectly illustrated and the soft colours and the images bring a sense of calm and serenity to the plot and make you emotionally attached to these four friends who within thirty-two pages can make you feel warm and emotional with their love for one another.
This is an amazing story and I hope that it gets the recognition it deserves just like Lauren Ace's book, The Girls, which won the Waterstones Children's Book Prize.
Purchase Online From:
---
What did you think of 'The Boys'? Share your thoughts in the comment section below!
---
The above links are affiliate links. I receive a very small percentage from each item you purchase via these link, which is at no extra cost to you. If you are thinking about purchasing the book, please think about using one of the links. All money received goes back into the blog and helps to keep it running. Thank you.
Like us on Facebook – Tweet us on Twitter – Pin us on Pinterest – Join us on Instagram