A Man With One Of Those Faces by Caimh McDonnell – Book Review
A Man With One Of Those Faces by Caimh McDonnell – Book Review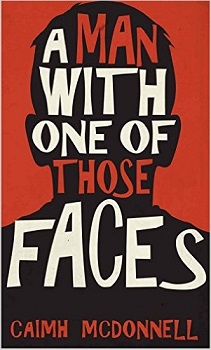 A Man With One Of Those Faces
Author – Caimh McDonnell
Publisher – McFori Ink
Pages – 332
Release Date – 27th August 2016
ISBN-13 – 978-0995507500
Format – ebook, paperback, audio
Reviewer – Abby
I received a free copy of this book
Post Contains Affiliate Links

Thrilling shouldn't be this funny, funny shouldn't be this thrilling.
The first time somebody tried to kill him was an accident. The second time was deliberate.
Now Paul Mulchrone finds himself on the run with nobody to turn to except a nurse who has read one-too-many crime novels and a renegade copper with a penchant for violence. Together they must solve one of the most notorious crimes in Irish history . . . or else they'll be history.

When you have 'one of those faces' you can get away with murder. You know, one of those faces that blends seamlessly into a sea of people. Distinctly average and not quite the face you'd expect from a novel's leading man. Yet, this face – 'a masterpiece of bloody-minded unoriginality, an aesthetic tribute to the forgettably average' – is just the face that McDonnell lends to his main character, Paul Mulchrone. Our leading lady, Nurse Brigit, doesn't fare much better either; her's is a face that wouldn't sink a thousand ships, but could raise the pulses of the guys waiting for chips at the local fish bar.
Anyway, back to the murder. As a man possessing 'one of those faces', Paul succeeds in doing his bit at the local hospice, visiting elderly patients and pretending to be their son, grandson, family friend, or whomever they mistake him for. An odd hobby that is made a lot more bizarre when a particularly tricky patient, in a visit arranged by Nurse Brigit, mistakes Paul for an old foe's son and embarks on a fight with him. In this ill-fitting scuffle, Paul is stabbed in the shoulder. (The doctor later tells him that the best place to be injured is in the gluteus maximus – remember that, Paul!) The patient, however, suffers a fatal heart attack. Being the last person to see this patient alive, Paul is on suspicion of committing his murder. Worse, he's also accused of having some very dangerous knowledge about the criminal underworld of Dublin, and this is where his troubles just begin…
Not so much wanted for murder anymore, Paul has instead become a target himself. Feeling guilty for how this all started in the first place, Brigit – armed with some crucial detective knowledge gleamed from her love of TV crime shows – decides to help Paul get out of trouble. The police are also trying to help Paul out, with almost-retired DI Jimmy Stewart and Wilson, an idiot of a police officer that Stewart had been forced to babysit, assigned to the case. There's also Bunny – an absolute hoot of a Detective Sergeant who reminds me of Life on Mars and Ashes to Ashes' Gene Hunt: drinking, swearing, lets his fists (or hurley – a hockey stick of sorts) do the talking, yet wise and extremely loyal to the few he cares about.
As the story progresses, we get to learn more about Paul's backstory, and perhaps why he began visiting all these old folk in the hospice in the first place. Paul craves love and acceptance – and this still shows through an increasingly farcical and humorous murder plot. Growing closer to Brigit could always help him feel more wanted too, and the fairy tale romance of the book they are getting clues from on how to solve the case they are slap-bang in the middle of isn't lost on them either… But there's no real time for romance, there's a crime to be solved! And by hook, or by crook, or hurley, Paul, Brigit and Bunny are capable of solving it, with little real assistance from the police force, who are frightfully scared of a PR disaster amongst the bloodshed.
What I particularly loved about this book was how incredibly fast-paced it was, especially once we were on the run with Paul and Brigit. I'm not usually a huge fan of crime thrillers because the plots can spiral wildly out of the author's control, but McDonnell creates a captivating plot with enough juicy twists to prevent it becoming predictable. It's also bursting with humour; for a face that screams 'nothing special', Paul is an extremely witty character. Although it's written in third person, it still feels like you're following Paul's thoughts – and his commentary on the severity of his situation is very funny. All the characters are given rich stories and are well-developed, even down to Brigit's ex-fiance who sports an alarmingly odd head of hair thanks to a recent hair transplant.
If you're after a crime novel that doesn't take itself too seriously and makes you laugh out loud then I'd recommend to give A Man with One of Those Faces a go. Personally, I'm looking forward to reading the sequel, which is currently being written by McDonnell.
Book Reviewed by Abby
Have a read of the reviews of the second book 'A Man with one of those Faces' and the prequel 'Angels in the Moonlight'
Purchase Links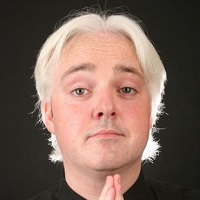 Caimh McDonnell is an award-winning stand-up comedian, author and writer of televisual treats.
In his time on the British stand-up circuit, he has firmly established himself as the white-haired Irishman whose name nobody can pronounce. He performs regularly at all the major clubs and is equally at home doing a set or acting as MC. He regularly supports Sarah Millican on tour and has also brought the funny worldwide, doing stand-up tours of the Far East, the Middle East and once, the near east (Norwich). He brings a new stand-up show to the Edinburgh festival pretty much every year, mainly as an excuse to eat things that've been deep fried.
Caimh is in great demand as a writer for TV. He has recently worked on the hit BBC2 show 'The Sarah Millican Television Programme' and written for comics on 'Mock the Week' and 'Have I Got News for You'. He also works as a children's TV writer and was BAFTA nominated for the CBBC animated series 'Pet Squad' which he created. He was a winner in the BBC's Northern Laffs sitcom writing competition, where he was lucky enough to be mentored by Craig Cash and Phil Mealey of 'Royle Family' fame.
Caimh is massively proud to be 'The Voice of London Irish'. Currently in his tenth season as a key part of the London Irish rugby club match day experience, he acts as the announcer in the Madjeski stadium in Reading, as well as conducting player interviews and writing for the programme. He was recently delighted to referred to as 'Appallingly Partisan' by the Rugby Paper, who seemed to be under the mistaken impression that he is sent in by the UN to seek a peaceful resolution to the match.
So, all-in-all, he manages to keep himself busy.
Have a read of our interview with Caimh – 'The Writing Life of: Caimh McDonnell'
Author Links