Angels in the Moonlight by Caimh McDonnell – Book Review
Angels in the Moonlight by Caimh McDonnell – Book Review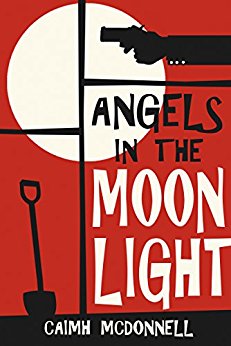 Angels in the Moonlight
A prequel to the Dublin Trilogy
Author – Caimh McDonnell
Publisher – Mcfori Ink
Pages – 320
Released – 28th August 2017
ISBN-13 – 978-0995507548
Format – ebook, paperback
Reviewer – Abby
I received a free copy of this book.
Post contains affiliate links
For Detective Bunny McGarry, life is complicated, and it is about to get more so.
It's 1999 and his hard won reputation amongst Dublin's criminal fraternity, for being a massive pain the backside, is unfortunately shared by his bosses. His partner has a career-threatening gambling problem and, oh yeah, Bunny's finally been given a crack at the big time. He's set the task of bringing down the most skilled and ruthless armed robbery gang in Irish history. So the last thing he needs in his life is yet another complication.
Her name is Simone. She is smart, funny, talented and, well, complicated. When her shocking past turns up to threaten her and Bunny's chance at a future, things get very complicated indeed. If the choice is upholding the law or protecting those he loves, which way will the big fella turn?
Review
Angels in the Moonlight is Caimh McDonnell's latest novel; a prequel to his hilarious 'Dublin Trilogy'. The year is 1999. Location: Dublin. The world is fearing the advent of the new millennium and the Y2K bug. Bunny McGarry is fearing the accidental suicide of Rory Coyne, who is only at the top of a six-storey building to detract attention from his thieving girlfriend. And that's just the first chapter.
To those familiar with McDonnell's 'Dublin Trilogy', this prequel is the well-needed backstory of his fantastically flawed detective, Bunny McGarry. This 'Bunny: The Early Years' paints a vivid picture of our hero. He was 'a big lummocks of a man, with a thick Cork accent and a scruffy, second-hand look about him, He was early thirties, six foot two and fat, but in a usable way'.
As with his previous novels, McDonnell's character descriptions are wonderfully detailed, usually grotesque, but always authentic and funny. One of my favourite laugh-out-loud moments of Angels? When Bunny's partner, Gringo, tells him the whereabouts of his sandwich the morning after the night before: 'If you're looking for it, the other half of that sandwich appears to be stuck to your back'.
Wait, who's Gringo? He's is a new character to us, not even referred to in the trilogy. Thick as thieves despite their extremely different upbringings, DS Spain – Gringo to friends – was Bunny's partner in the Gardai back in 1999. For readers already accustomed to the ways of Bunny, it's a bit of a shock to see him have such a close friend, let alone work harmoniously alongside someone else. When we learn about Gringo's personal woes – a failing marriage, mounting gambling debts – we actually start to see Bunny in a surprisingly honourable light by comparison.
What readers would be familiar with is the hurling team that Bunny coaches – the 'best under-12 hurling team in the country', no less. This is due to the spectacular striker abilities of one Paulie Mulchrone. Sound familiar? Paul Mulchrone is Bunny's accomplice in the 'Dublin Trilogy' and a major part of McDonnell's novels. It's a nice touch to have a reference to him, and Paul's friend Phil, in this book, too.
That's not the only connection to the trilogy. The particular gang that Bunny and his team are assigned to deal with in Angels are a crew running the fiercely loyal Clanavale Estate – 'it is an island and Tommy is their boy king'. Tommy Carter – a kid running the day-to-day operations as his father is in hospital – has a few cronies that the Gardai are also keeping a particular close eye on: Doyle, Moran and O'Donnell. With Moran and O'Donnell being more serious threats, McDonnell has created a trio of threats that mirrors the three property developers in the second of the trilogy, The Day That Never Comes. Their mission is to make lots of money through the import and sale of large quantities of drugs in Dublin.
Meanwhile, in his personal life, we see Bunny do the unthinkable – fall in love. Bunny McGarry lets his guard down and falls in love with Simone, the American bartender/cleaner/singer at local jazz joint, Charlie's. Like Gringo, she's also hiding a troubled past, except her crimes mount up to more than gambling debts.
As Simone tells him, Bunny's strength in his morality is also his weakness: 'You can't save everybody, but I do love that you try'. McDonnell's strength in Bunny's characterisation is to make him hilariously funny when he is at risk of being killed.
The way Bunny deals with the thrilling events of Angels not only goes to show what an immensely heroic yet flawed detective he is, but also explains why he is the way he is in the trilogy. From his love of his hurling team, protection over Paul Mulchrone and pride for his Porsche, Angels in the Moonlight fills the gaps of the trilogy in the most fantastically funny way. An exciting, humorous, deep insight into Bunny.
Reviewed by Abby

Have a read of our reviews of the first and second books in the trilogy – 'A Man with one of those Faces' and 'The Day That Never Comes'
---
About the Author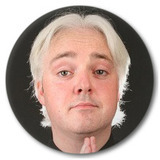 Caimh McDonnell is an award-winning stand-up comedian, author and writer of televisual treats.
In his time on the British stand-up circuit, he has firmly established himself as the white-haired Irishman whose name nobody can pronounce. He performs regularly at all the major clubs and is equally at home doing a set or acting as MC. He regularly supports Sarah Millican on tour and has also brought the funny worldwide, doing stand-up tours of the Far East, the Middle East and once, the near east (Norwich). He brings a new stand-up show to the Edinburgh festival pretty much every year, mainly as an excuse to eat things that've been deep fried.
Caimh is in great demand as a writer for TV. He has recently worked on the hit BBC2 show 'The Sarah Millican Television Programme' and written for comics on 'Mock the Week' and 'Have I Got News for You'. He also works as a children's TV writer and was BAFTA nominated for the CBBC animated series 'Pet Squad' which he created. He was a winner in the BBC's Northern Laffs sitcom writing competition, where he was lucky enough to be mentored by Craig Cash and Phil Mealey of 'Royle Family' fame.
Caimh is massively proud to be 'The Voice of London Irish'. Currently in his tenth season as a key part of the London Irish rugby club match day experience, he acts as the announcer in the Madjeski stadium in Reading, as well as conducting player interviews and writing for the programme. He was recently delighted to referred to as 'Appallingly Partisan' by the Rugby Paper, who seemed to be under the mistaken impression that he is sent in by the UN to seek a peaceful resolution to the match.
So, all-in-all, he manages to keep himself busy.
Have a read of our interview with Caimh – 'The Writing Life of: Caimh McDonnell'





---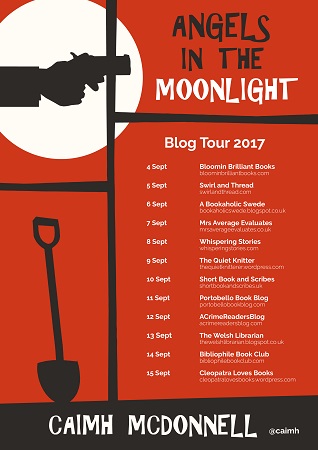 What did you think of our review for 'Angels in the Moonlight'?