Nineteen Letters by Jodi Perry – Book Review
Nineteen Letters by Jodi Perry – Book Review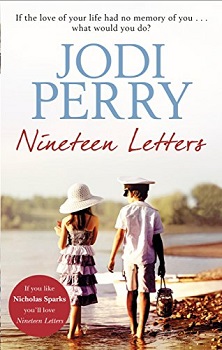 Nineteen Letters
Author – Jodi Perry
Publisher – Sphere
Pages – 400
Released – 19th April 2018
ISBN-13 – 978-0751571837
Format – ebook, paperback
Reviewer – Stacey
Rating – 4.5 Stars
I received a free copy of this book
Post contains affiliate links.
The 19th of January, 1996 . . . I'll never forget it. It was the day we met. I was seven and she was six. It was the day she moved in next door, and the same day I developed my first crush on a girl.
Then tragedy struck. Nineteen days after our wedding day, Jemma was in an accident that would change our lives forever. When she woke from her coma, she had no memory of me, of us, of the love we shared.
That's when I started writing her letters. The stories of our life. Of when we met. About the happier times, and everything we'd experienced together.
What we had was far too beautiful to be forgotten.

On the 19th January 1996 two little children, Jemma and Braxton meet for the first time. After nineteen years knowing that they were soul mates, they married and were well and truly in that honeymoon period. Unfortunately, all good things must come to an end and nineteen days later it was back to work for the couple.
Driving to work in the pouring rain, Jemma is sideswiped and horrifically injured, not only physically, but her brain has been injured too causing her to have amnesia.
Upon waking from an induced coma, Jemma doesn't know anyone including Braxton. But he won't give up on the love of his life that easily.
Over the months Braxton writes Jemma nineteen letters reminding her of their time together. Each letter shares a moment. He also gives her a charm bracelet and a charm with each letter.
Can Jemma fall in love with Braxton all over again?
Nineteen letters is one of the sweetest books that I have ever had the pleasure of reading. It is so beautifully written and realistic too. It gives you butterflies whilst reading and a lump in your throat. It is like being on an emotional roller-coaster.
Told in dual perspective Jemma and Braxton are just a delight to get to know. Jemma understandably is scared, worried and anxious. She doesn't know who anyone is. She doesn't even remember who she, herself is. That must really be scary to wake up and to have a 'stranger' holding your hand, declaring he's your husband and telling you how much he loves you.
The same can be said for Braxton. He is worried and scared too. He loves his wife and will do anything for her. He's loved her for nineteen years and he's not giving up on their love now. The only thing he can think of to get her to come back to him is to write letters to her, hoping that they will get her to remember him.
This book is moving and uplifting too. The characters are vivid and the tough times that they both were going through were so heartfelt. I was hooked from the beginning and was totally engrossed in finding out whether this perfect couple could once again be together.
Nineteen Letters is just an adorable story that needs to be read.
Reviewed by Stacey
---
Purchase online from:
---
About the Author

Jodi Perry is a wife and mother, and was born in Sydney, Australia. She has lived there her whole life. Under the name J. L. Perry, her previous four novels have all been #1 bestsellers in ebook: BASTARD, HOOKER, JAX, and THE BOSS. Foreign rights in BASTARD have been sold to Hungary and France where BASTARD was recently a Top 20 amazon ebook bestseller.
Jodi travels annually to the UK and US to promote her books at romance events and to meet her readers. Her other titles include Luckiest Bastard, My Destiny, My Forever, Damaged and Against All Odds.
NINETEEN LETTERS is her tenth novel, and debut under the name of Jodi Perry.



---