Deck the Halles by Stephanie Dagg – Book Review
Deck the Halles by Stephanie Dagg – Book Review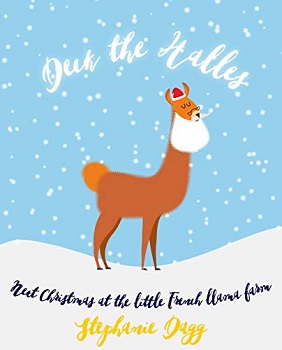 Deck the Halles
Next Christmas at the Little French Llama Farm
Author – Stephanie Dagg
Pages – 246
Released – 20th November 2018
Format – ebook
Reviewer – Stacey
Rating – 4 Stars
I received a free copy of this book
Post contains affiliate links.
It's nearly Christmas at the little French llama farm.
Nick and Noelle are looking forward to a quiet, romantic Christmas together, but at the last moment Noelle is asked to book her local agricultural halles for the imminent national llama show. The original venue went up in smoke. Noelle does as asked, thinking that's all she'll have to do. She couldn't be more wrong! On top of all the extra work this good deed makes for her, various friends and relatives start turning up on the doorstep as the result of assorted crises. The farmhouse is about to burst at the seams!
Add in a few other events, such as playing the part of a pixie at a Christmas fête, Nick's book launch, training a non-cooperative llama for the agility class in the show and catering for more and more mouths, and Noelle is pushed ever closer to the end of her tether.
Can she hold it together and stay as calm as a llama? Or will she be the next member of her family to make a bolt for it?
This festive, feel-good and fun novel is the sequel to 'Fa-La-Llama-La: Christmas at the Little French Llama Farm' but can be read as a standalone.

Deck the Halles is the second book in a series, the first being Fa-La-Llama-La. Whilst this book does work as a standalone and there were plenty of mentions about what happened in the first book, I still believe it would be best to read the first book before starting this one.
Noelle Green and her partner Nick run a kind of farm, they take in waifs and strays of all kinds of animals, including Llamas. Noelle is asked by the committee for Llamas to book her local Halle to host the upcoming Llama show after the one they normally use burnt down.
Noelle agrees though there are a few conditions. She wants her Llama's, which have never entered the competitions due to wrong paperwork, to be allowed to enter. Author Nick would also like to show off his new book, not that he has written it yet.
Will everything run smoothly for the pair? – Doubtful!
I can honestly say this is the first time that I have read a book with Llamas in it. I've heard of Llama farms but never thought of them being big in France. Anyhow, back to the book. The first thing that I noticed was how the writing just flowed and how much humour there was within the pages.
Noelle is a woman with a sarcastic side. She is also a woman with a passion and dedication for animals and especially her Llama's. She is also being pushed to her limits with the whole organising and training her Llama's. Her character came across strong and it was pure joy to spend time with her.
I read Deck the Halles in just two sittings and enjoyed it immensely. The setting was superbly written and I could imagine being stood in rural France and surrounded by animals and enthusiasts. The plot sounds a little 'out there' but it was truly enjoyable and gave me a good giggle. It is also very festive and definitely one to add to your Christmas reading list.
Reviewed by Stacey
---
Purchase online from:
---
About the Author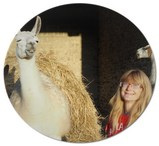 I'm an English expat living in France, having moved here with my family in 2006 after fourteen years as an expat in Ireland. I now consider myself a European rather than 'belonging' to any particular country. The last ten years have been interesting, to put it mildly. Taking on seventy-five acres with three lakes, two hovels and one cathedral-sized barn, not to mention an ever increasing menagerie, makes for exciting times. The current array of animals includes alpacas, llamas, huarizos (alpaca-llama crossbreds, unintended in our case and all of them thanks to one very determined alpaca male), sheep, goats, pigs, ducks, geese, chickens and turkeys, not forgetting our pets of dogs, cats, zebra finches, budgies , canaries, lovebirds and Chinese quail.
Before we came to France all we had was a dog and two chickens, so it's been a steep learning curve. I recount these experiences in my book Heads Above Water: Staying Afloat in France and the sequel to that, Total Immersion: Ten Years in France. I also blog regularly at www.bloginfrance.com.
I'm married to Chris and we have three bilingual TCKs (third culture kids) who are resilient and resourceful and generally wonderful.
I'm a traditionally-published author of many children's books, and am now self-publishing too. I have worked part-time as a freelance editor for thirty years after starting out as a desk editor for Hodder & Stoughton. Find me at www.editing.zone. The rest of the time I'm running carp fishing lakes with Chris and inevitably cleaning up some or other animal's poop.




---