Fascinating Facts for the Whole Family by Nayden Kostov – Book Review
Fascinating Facts for the Whole Family by Nayden Kostov – Book Review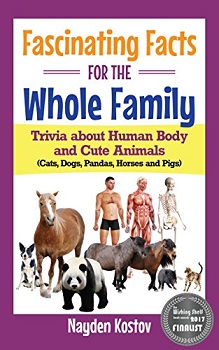 Fascinating Facts for the Whole Family
Author – Nayden Kostov
Pages – 132
Released – 14th November 2017
ISBN-13 – 978-9995998059
Format – ebook, paperback
Reviewer – Stacey
Rating – 4 Stars
I received a free copy of this book
Post contains affiliate links.
My aim was to create a compilation of facts suitable for children. This book will entice them into reading and learning new stuff while having fun.
I created the popular trivia website RaiseYourBrain and wrote two trivia books so far. As I was new to writing for kids, my son Pavel (aged 8) helped me very much. He reads a lot and really loves learning new things every day. Pavel proudly illustrated the book and helped me to handpick and order the facts.
The book contains 600+ pieces of trivia and is covering topics that kids love: cute animals and human body. The lack of explicit sexuality, foul language or gore makes it a good read for anyone in the age range 8-18 years (and their parents too 😉 ).
A life hack if your child is NOT an avid reader: when you are preparing his/her lunch box, slip inside a couple of those facts. You could print out three facts every day to create some lunchtime fun for your kids and provoke their intellectual curiosity.

Author Nayden Kostov is a facts genius. He has dedicated his life to providing people with factual information on various subjects and has written numerous books and has his own successful website.
Now his son is at the age where he can read independently, Nayden has decided to write a factual book that is appropriate for both child and adults to read and contains information on the human body and lots of different animals.
Inside the book, you will find it split into two sections – Animals and Body. These two sections are then split into smaller sections, five for animals and seventeen for the body. The facts are also accompanied by Nayden's young son's drawings, which are just adorable.
To give you a small taste of what you will discover within the pages – Did you know that the cat flap was invented by Issac Newton? Or, that the oldest cat video on YouTube was filmed in 1894? What about the fact that a dog was hung for witchcraft in Salem, Massachusetts? Or, that every second, your bone marrow produces two million red blood cells? Me neither.
Fascinating Facts for the Whole Family is a lot of fun and very educational and all the facts will be appreciated by both adults and children. I really enjoyed reading the book. It is something you can dip in and out of and very useful for coming up with quiz questions for your Christmas parties.
Reviewed by Stacey
---
Purchase online from:
---
About the Author

Born in Bulgaria, I have lived in places like Germany, Belgium and Iraq, before settling down with my family in Luxembourg. With varied interests, I have always suffered from an insatiable appetite for facts stemming from an unrestrainable intellectual curiosity. It has certainly influenced my academic background and career: after acquiring Master degrees in Greek Philology, German and English Translation, I graduated in Crisis Management and Diplomacy and, most recently, undertook an MBA.
My career has been equally broad and diverse, swinging from that of an army paratrooper and a military intelligence analyst; through to that of a civil servant with the European Commission, and presently, that of a clerk, performing purely financial tasks in a major bank.
Member of MENSA.


---