Love and Chocolate Biscuits by Karen Williams – Book Review
Love and Chocolate Biscuits by Karen Williams – Book Review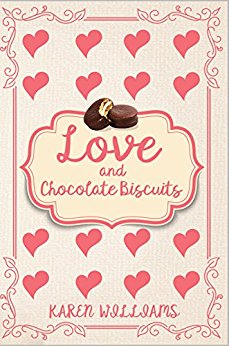 Love and Chocolate Biscuits
Author – Karen Williams
Publisher – Austin Macauley
Pages – 229
Release Date – 30th November 2016
ISBN-13 – 978-1786292803
Format – ebook, paperback, hardcover
Reviewer – Stacey
I received a free copy of this book
Post Contains Affiliate Links

Bubbly and down to earth Polly struggles with two ever-present issues in her life. Her weight (she can't resist a choccy biccy') and her love life (she can't resist dating, particularly on the internet).
Then she meets charming, handsome and wealthy Mark. Is he a catch, or is there a catch? (in Polly's world, there always is). Maybe she should stick with wooing cyber-Romeo Tim instead?
Against a backdrop of hilarious dieting and dating disasters, and with help and guidance from her friends, Polly starts to wonder if perhaps she should give up on men altogether. But as the saying goes, when one door closes, another one opens…
Review
Unlucky in love Polly is after the perfect guy, so she decides to try an internet dating site, where she meets Tim. The two exchange numerous emails, but Tim often works away, so Polly is having to wait for their first face to face meet.
Then she meets gorgeous Mark, and can't understand why a guy like him would be interested in her. The two begin to date, but while Mark says all the right things, he just hasn't actually made a move, physically.
With two guys now to choose from, which one will Polly pick, or will neither be the man for her?
Sometimes I find it hard to review a book, especially one I had such high hopes for. The blurb enticed me to read this book, and for the first half I was intrigued, and it held my attention. I found it quite amusing, and there were lots of laugh out loud moments. Then I got about 50% of the way in and something changed. It actually felt like the author had rushed this half, which is a real shame.
Polly started off as a likeable woman, who didn't have a great love life, nor a job she particularly liked. She also struggled with her weight, and attended a slimming class with her friends, but she had a lot of spark and a great sense of humour. Suddenly I started to find her quite annoying, and unrealistic, especially in the way she spoke and reacted to other characters.
The situations, actions, mannerisms, all completely changed in the second half. There were also too many scenarios crammed in, and puns to try and add some hilarity. There were no real twists, or red herrings, yes Mark had a secret up his sleeve, but I had already worked out what it was chapters before it was revealed.
If the plot had been kept simple, rather than lots of secondary stories added and the characters came across as realistic, then this book would have been brilliant.
Book reviewed by Stacey

Karen Williams was born in Netley, Hampshire, where she still lives today. She met her husband, a local lad, and married at 20, and has two grown up children. This is her first book to be published; she is very excited and can't wait to start work on the next one.
Author Links