The Leavers by Lisa Ko – Book Review
The Leavers by Lisa Ko – Book Review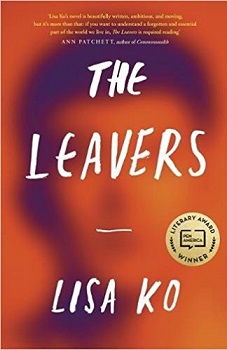 The Leavers
Author – Lisa Ko
Publisher – Dialogue Books
Pages – 353
Released – 30th November 2017
ISBN-13 – 978-0349700526
Format – ebook, paperback, hardcover, audio
Reviewer – Stacey
Rating – 4 Stars
I received a free copy of this book
Post contains affiliate links.
Ko's novel is a moving story of how a boy comes into his own when everything he loves is taken away, and how a mother learns to live with the mistakes of the past.
One morning, Deming Guo's mother, Polly, an undocumented Chinese immigrant, goes to her job at a nail salon – and never comes home. No one can find any trace of her. With his mother gone, eleven-year-old Deming is left mystified and bereft. Eventually adopted by a pair of well-meaning white professors, Deming is moved from the Bronx to a small town upstate and renamed Daniel Wilkinson. But far from all he's ever known, Daniel struggles to reconcile his adoptive parents' desire that he assimilate with his memories of his mother and the community he left behind.
Set in New York and China, The Leavers is a vivid examination of borders and belonging. It's a moving story of how a boy comes into his own when everything he loves is taken away, and how a mother learns to live with the mistakes of the past.

The leavers by Lisa Ko is ultimately a story of love, loss and finding yourself when you feel that you don't fit in.
At ten-years-old, Deming Guo has already had an eventful life. His mother Peilan (Polly) Guo was an immigrant from China to the USA, arriving whilst pregnant with Deming. Unable to support him he was sent to live with her father back in China until the age of six when his Grandfather died. He then returned to New York to live with his mum, her boyfriend Leon, Leon's sister Vivian and her son Michael.
One afternoon Polly goes out to work and never returns home. Soon afterwards Leon takes off to China, leaving Deming in the care of his sister. When that becomes too much for her, she goes to the authorities where Deming is put into care and eventually adopted by white, rich couple Kay and Peter who are both professors.
He is brought up as an American and even his Chinese name is changed from Deming Guo to Daniel Wilkerson. This leaves Deming/Daniel growing up with mixed emotions. He never feels that he fits in anywhere and always feels at a loss. He lost his mum and then he lost his Chinese heritage.
Told from alternative viewpoints, from Peilan/Polly and Deming/Daniel, and back and forth in time. We follow Deming/Daniel as he grows up from a young boy into a man surrounded by mystery, and a hole in his heart that occurred the day his mother left. He has always wanted to know what happened to her, but growing up no-one knew. He also lost his Chinese heritage being brought up by white, rich family who wanted him to be just like other young American boys.
This is a tale of one young man trying to find himself, not only on the inside but the outside too. Who is Deming/Daniel really?
The book is exceptionally thought-provoking and had me interested in the lives of Peilan and Deming. I was intrigued as to where Lisa Ko was going to take her story.
The plot is emotional and all the characters had lots of depth to them. I enjoyed spending time and getting to know them all. I was rooting for Deming, this young lad who had been through so much in his life, I'm not surprised he was mixed up.
The Leavers is touching and so poignant. It is powerful and original too. All the little details are expertly woven together to make this a wonderful novel. It certainly made me stop and think about life.
Reviewed by Stacey
---
Purchase online from:
---
About the Author

I'm the author of THE LEAVERS, a novel that won the PEN/Bellwether Prize for Socially Engaged Fiction and was a finalist for the 2017 National Book Award in Fiction.
Set in New York and China, THE LEAVERS follows one young man's search for his mother, an undocumented Chinese immigrant who disappears when he's 11 years old, after which he is adopted by a white family. It's the story of one mother and her son: what brings them together and takes them apart.
I'm a believer in the long game: I started writing stories when I was 5 years old and published my first book at 41.






---