If She Dies by Erik Therme – Book Review
If She Dies by Erik Therme – Book Review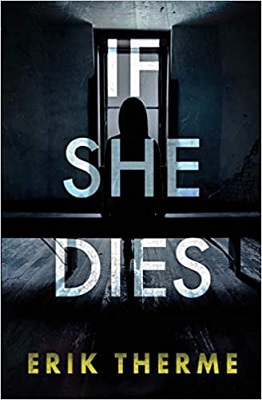 If She Dies
Author – Erik Therme
Publisher – Thecker Books
Pages – 266
Released – 21st February 2021
ISBN-13 – 979-8555303899
Format – ebook, paperback, audio
Rating – 4.5 Stars
I received a free copy of this book.
This post contains affiliate links.


Synopsis
How far would you go to right a wrong?
Nine months ago, Tess's five-year-old daughter was killed in a car accident. The driver, Brady Becker, was sentenced to two years in prison. It didn't make Tess's pain go away.
Brady also has a daughter: A twelve-year-old named Eve who walks to Chandler Middle School every day. Tess knows this because she's been watching Eve for the last three weeks. It isn't fair that Brady's daughter gets to live, while Tess's daughter does not.
When Eve goes missing, all eyes turn to Tess, who doesn't have an alibi. But Tess isn't guilty.
Or so she believes.
If She Dies is a brilliantly written, compelling thriller that hooks you from the start and I could not put the book down. The vocabulary and symbolism used by Erik Therme throughout is impressive to say the least and Therme is successful in creating an emotional connection between the reader and the characters, especially the protagonist, Tess Parker.
Tess Parker's five-year-old daughter Lily was killed in a car accident, dying in her mother's arms, a memory that is as sharp as the day it happened and consumes her every waking moment. The novel begins 9 months after the traumatic event. Tess and her husband Josh have relocated to a neighbourly town. Josh appears to have put Lily's death behind him and expects Tess to do the same in the hope that their life will return to a semblance of normality.
The resentment she has for her husband is clearly growing especially since he has bought a brand-new jeep with the insurance money that the couple received from their daughter's death. But Tess doesn't know the half of it because she's too caught up in her own struggle to know what her husband is thinking or feeling. When Josh raises the question of having another child, Tess is horrified and cannot even contemplate betraying the memory of her daughter in such a way.
Eve Becker is 12 years' old and every day, she takes the same route to Chandler Middle School. Tess knows this because she's been watching Eve for the last few weeks and believes that their paths crossing was unavoidable. But this isn't pure coincidence. For Eve Becker is the daughter of the man who was responsible for killing Lily. Now serving a prison sentence, Tess feels an affiliation and a fondness for Eve whose life has also been affected by Lily's death.
The depth of layers to Tess's character are heart-warming and her ultimate sadness and desperation draws you in thanks to Therme's detailed and rich descriptions. When Tess' twin brother, Colin, comes back into her life it adds yet another dimension. She believed that her free-spirited twin had been travelling but in fact, he was living a short car ride away. He's selfish but loveable and it quickly becomes clear why he couldn't be around to prop Tess up emotionally.
When Eve goes missing Tess sits firmly in the frame with the Police keen to speak with her. But Tess is adamant that she would never have done such a thing, or so she believes. If She Dies is a superb thriller that reeled me in and kept me turning the pages until the end. All in all, a superb read that I would highly recommend.
Purchase Online From:
---
What did you think of 'If She Dies'? Share your thoughts in the comment section below!
---
The above links are affiliate links. I receive a very small percentage from each item you purchase via these link, which is at no extra cost to you. If you are thinking about purchasing the book, please think about using one of the links. All money received goes back into the blog and helps to keep it running. Thank you.
Like us on Facebook – Tweet us on Twitter – Pin us on Pinterest – Join us on Instagram