Fire Within by Morten W. Simonsen – Book Review
Fire Within by Morten W. Simonsen – Book Review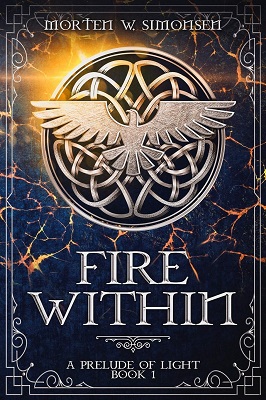 Fire Within
A Prelude of Light Book One
Author – Morten W. Simonsen
Pages – 436
Released – 12th March 2020
ISBN-13 – 978-8269177602
Format – ebook, paperback
Rating – 4 Stars
I received a free copy of this book.
This post contains affiliate links.


Synopsis
The end of the Taroshian Empire is near. It starts with a thousand howling wolfmen, streaming across the Red Strait to exact vengeance. It starts with secrets, with a missing wife and son and a covered-up murder. It starts with treachery, sown deep into every layer of human society.
Conflict within and war abroad strain the Empire's resources. Were she to fall, it might not only mean the end of an era, it might be the end of mankind.
An epic fantasy set in a grim world on the brink of an environmental crisis. Mother Earth calls for justice.
I have a real hit-and-miss relationship with the fantasy genre. I do find that a lot of the stories in the genre just don't work for me, and yet fantasy books are the ones that I would love to be able to be more in sync with given that they take you fully away from the norm and place you in a world created within the author's imaginative mind.
Fire Within is a medieval fantasy novel and the first in a planned series. It started strongly with an exciting prison break scene lead by our protagonist, Ivan, as he leads his fellow inmates and a wolfman from the Olso race. At this point, we don't know much about Ivan except that he states he did not commit any crime and that unlike most of the inmates, Ivan is a nobleman sentenced to death by his father.
The world took some getting used to, as did the mass of characters. You are never sure which character is telling you the truth or who is good or evil. You will even question whether our protagonist is being truthful with us, is he really capable of the hideous crime he is accused of?
The world is grim and the plot very dark. The world-building however is superb I just wish I could follow it and understand it far better than I did. It contained everything most fantasy novels contain. Feuding families, war, fighting, secrets, corruption, a religious aspect, and otherworldly beings. The story has plenty of twists that will have you questioning everything you have been told up to that point.
If you enjoy a well-developed fantasy novel that is bloody and fast-paced, plus is a series, then you should pick this book up. Unfortunately, I think this is where my journey with these characters ends as I can appreciate the imagination, thought, and creativeness that went into the series I just wish I could have found myself enjoying it more than I did.
Purchase Online From:
---
What did you think of 'Fire Within'? Share your thoughts in the comment section below!
---
The above links are affiliate links. I receive a very small percentage from each item you purchase via these link, which is at no extra cost to you. If you are thinking about purchasing the book, please think about using one of the links. All money received goes back into the blog and helps to keep it running. Thank you.
Like us on Facebook – Tweet us on Twitter – Pin us on Pinterest – Join us on Instagram