A Die Hard Christmas by Doogie Horner – Book Review
A Die Hard Christmas by Doogie Horner – Book Review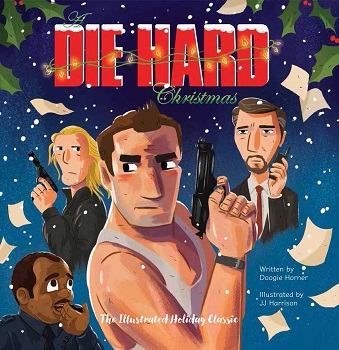 A Die Hard Christmas
The Illustrated Holiday Classic
Author – Doogie Horner
Illustrator – Jj Harrison
Publisher – Insight Editions
Pages – 32
Released – 24th October 2017
ISBN-13 – 978-1608879762
Format – hardcover
Review by – Stacey
Rating – 5 Stars
This post contains affiliate links.


A delightful Christmas storybook for adults based on the action-packed Die Hard movie
All John McClane wants for Christmas is to reunite with his estranged family. But when his wife's office holiday party turns into a deadly hostage situation, he has to save her life before he can get home in time for Christmas!
The unconventional fan-favorite movie Die Hard is now an illustrated storybook–complete with machine guns, European terrorists, and a cop who's forced to rely on all his cunning and skills (and the help of a fellow officer) to save the day. Based on the classic "Night Before Christmas" poem and filled with whimsical illustrations, this cleverly reimagined homage is destined to become a holiday classic.
*Contains adult material including violence and strong language. Reader discretion is advised. Ho-ho-ho.

My husband is a massive Die Hard fan, I think I have lost count of how many times he has seen the movie and he states that it is the best Christmas movie ever (if you don't think it is a Christmas movie just take a look at the plot and think again!) Because of his love for the film a couple of Christmases ago, I saw this book and bought it for him as a present. Now every week on the blog we run 'Friday Fun Reads' and I thought this book would be perfect for that segment.
This hardback book follows the plot of the original movie and is told in the poem style of 'Twas a Night Before Christmas. It begins 'Twas the night before Christmas and up in the tower, everyone was partying, except one wallflower.
The story is fun, covers most of the main plot, and has some fabulous artwork. Let it be known that this is very much a book for adults as it contains illustrations of blood and gore, plus a few swear words too, but then it wouldn't be a book about Die Hard if it didn't.
This is a book for those that love the movie. After seeing the face of my hubby on Christmas morning when he received it I can be confident that other fans will love it too.
Book Reviewer – Stacey
---
Purchase online from:
---
About the Author

Doogie Horner is a comedian, author, and illustrator. His comedy album A Delicate Man was an AV Club staff pick. His previous books include Some Very Interesting Cats Perhaps You Weren't Aware of (Workman, 2016), 100 Ghosts (Quirk Books, 2013), and Everything Explained Through Flowcharts (Harper Collins, 2010). He has watched Die Hard 102 times. So far.




---
What did you think of A Die Hard Christmas? Share your thoughts in the comment section below!
---
The above links are affiliate links. I receive a very small percentage from each item you purchase via these link, which is at no extra cost to you. If you are thinking about purchasing the book, please think about using one of the links. All money received goes back into the blog and helps to keep it running. Thank you.
Like us on Facebook – Tweet us on Twitter – Pin us on Pinterest