Hope Stories from a Women's Refuge by Rosy Stewart – Book Review
Hope: Stories from a Women's Refuge by Rosy Stewart – Book Review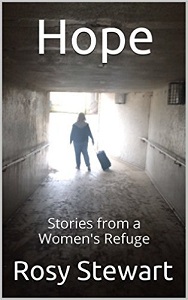 Hope


Stories from a Women's Refuge
Author – Rosy Stewart
Publisher – Cricket International
Pages – 130
Release Date – 5th February 2016
Format – ebook, paperback
Reviewer – Selina
I received a free copy of this book
Post Contains Affiliate Links

Sue Barlow is the manager of a women's refuge in London. A brutal attack on Liz, one of the ex-residents, brings home the failure of a system that should protect women. She joins forces with Jade a young police sergeant, and Nina a reclusive Russian I.T. expert. Together they track down and tackle abusers.
Very soon they learn that to succeed they must support each other to break the rules. This forces them to examine their own personal agendas to a depth they hadn't bargained for.
Each chapter centres around a different person that the team tries to help. These include a prostitute being terrorised by a gang; a wealthy woman imprisoned in a mansion by her servants; an abused woman with an identity crisis; an elderly woman found in the snow; a Nigerian woman trying to protect her daughter from a witch hunter; a young girl trapped in a religious cult; a woman trapped in a bogus refuge; a woman stalked by someone seeking revenge.
The book follows the progress of ex-resident Liz in hospital and the hunt by Sue, Jade and Nina for Viktor, her abuser. The final chapter climaxes with a showdown with Viktor.

'Hope' is a collection of stories from a Women's Refuge Centre. The story mainly centres around Sue Barlow who is the manager of the centre, which is in London.
Having been a victim of domestic abuse herself, Sue has first hand experience of how and what a person can go through. She tries to offer a home to as many women as she can, and comes across as a very caring and down to earth person.
Helped by her friend Jade, who is a police officer and Nina, a Russian Tech Specialist, they do all that they can to help these women escape from the torment of domestic abuse and violence.
We meet Liz, who has called upon Sue's help more than once. After going back to her abuser Viktor, and then trying to leave him again, she ends up in a coma. We learn of a connection between Liz and Nina that might just save a life!
Although this is not a nice subject to read about, it was very captivating and I felt myself being pulled into these stories. There was a good mixture and balance of the characters personal journeys.
The book highlight the abuse that does take place sometimes in peoples lives, and I have no doubt that many victims don't get a happy ending.
Hope Stories from a Women's Refuge is a well thought out collection of stories which shows there is a light at the end of the tunnel with just a bit of love, care and compassion.
Book Reviewed by Selina
Purchase Links

Helpline Details
www.nationaldomesticviolencehelpline.org.uk (UK)
Refuge (UK)
www.thehotline.org (USA)
www.au.reachout.com/domestic-violence-support (Aus)
www.hotpeachpages.net (CAN)
I'm sorry but I can't list all countries domestic violence helplines, but if you google them you will easily find one near you – remember if at risk of your search history being read, turn on the 'Private viewing' on your computer, or use a public computer – help is out there.