Jane Blond International Spy By Brianna Schatt and Stan Schatt – Book Review
Jane Blond International Spy By Brianna Schatt and Stan Schatt – Book Review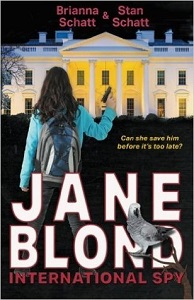 Jane Blond International Spy
Author – Brianna Schatt and Stan Schatt
Publisher – Booktrope Editions
Pages – 176
Release Date – 9th September 2015
Reviewer – Julie
I received a free copy of this book
Post Contains Affiliate Links

Fourteen year-old Jane Blond thought getting through high school was difficult enough with her dad in prison and her mother dating. Throw in being bullied by the popular girl who has everything, and it's completely unbearable. But when terrorists kidnap a boy she cares about, she knows she is the only one who can save him.
Jane must rely on her courage and cunning as well as on a computer genius, a teen with Asperger's and a parrot with an attitude.

'Jane Blond International Spy' is the result of collaboration between two American authors and is suitable for a pre-teen or early teenage audience. It is a fast-paced, high-action adventure with a few twists along the way and features a fourteen year old girl, aptly named Jane Blond who appears to run rings around the intelligence services.
The story is written in the first person and pushes the credibility boundaries to the extreme. It maintains a fairly even tempo from the beginning and the descriptive passages are fairly brief but helpful in delivering a backdrop for the action.
The characters were perhaps a little two dimensional with the plot rather stereotypical in places but I think it will work for its intended target readership. The main protagonist has an eclectic band as her supporting cast and the inclusion of a highly intelligent talking parrot is an innovative additional foil.
The writing style is fluent, if a little frenetic at times and incorporates some black humour such as: 'I never realised how boring dying could be'. In addition there are a few little gems in the dialogue: 'I'm rubber and you're glue; everything bounces of me and sticks to you'.
This novel is pure escapism with no hidden messages or thematic undertones. It is a very easy read and I think the writing combination of Brianna Schatt and Stan Schatt holds promise for the future.
I believe the characters needed a little more depth to enable the reader to suspend reality and become fully absorbed in their adventure but nevertheless award this novel a commendable four stars.
Book Reviewed by Julie

Brianna Schatt is a student at Hillsdale High School in San Mateo, California. Dr. Stan Schatt spent many years as a futurist responsible for forecasting future technology products and markets for Fortune 500 companies.
He served as a Fulbright Professor and taught at Tokyo University, USC, and the University of Houston. He is the author of over thirty books ranging from science fiction and paranormal mysteries to young adult novels. Schatt is a technology expert who has been quoted in the New York Times, Fortune, and BusinessWeek as well as CNBC.