The Doughnut King by Jessie Janowitz – Book Review
The Doughnut King by Jessie Janowitz – Book Review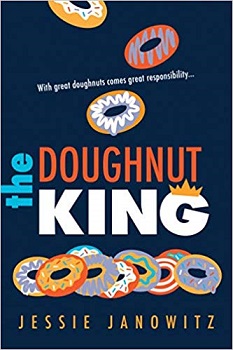 The Doughnut King
The Doughnut Fix Book Two
Author – Jessie Janowitz
Publisher – Sourcebooks Young Readers
Pages – 336
Released – 7th May 2019
ISBN-13 – 978-1492655442
Format – ebook, hardcover
Reviewer – Stacey
Rating – 5 Stars
I received a free copy of this book.
This post contains affiliate links.
Tris Levin thought moving from New York City to middle-of-nowhere Petersville meant life would definitely get worse…only it actually got better. But just when things are looking up, problems start rolling in.
His doughnut business has a major supply issue. And that's not the worst part, Petersville has its own supply problem, it doesn't have enough people. Folks keep moving away and if they can't get people to stay, Petersville may disappear.
Petersville needs to become a tourist destination, and his shop could be a big part of it, if Tris can keep up with demand. There's only one solution: The Belshaw Donut Robot. If Tris can win "Can You Cut It," the cutthroat competitive kids' cooking show, he can get the cash to buy the machine. But even with the whole town training and supporting him, Tris isn't sure he can live with what it takes to takes to win.

The Doughnut King is the second book in a series featuring twelve-year-old Tris and his doughnut business. The first book 'The Doughnut Fix' I reviewed back in April 2018 and loved it, so when I heard there would be a second book I couldn't wait to get started on it and see where life had taken Tris and his family since the last book.
Tris Levin's business is booming, the trouble is that he can't keep up with demand and when people are coming from far and wide to sample his doughnuts and there are none left they are getting angry and leaving negative comments about his business. He needs a plan and fast.
It's not only Tris that is having issues. He hometown of Petersville is too. The little village with just one high street is struggling. People don't want to move to this little place and if they are not careful it could just disappear altogether. After a town planning meeting, the residents come up with an idea to offer the shops at a discounted price to people. Hopefully with all the shops filled people will want to visit, but they need help in marketing the town too.
An idea is soon planted in Tris's mind. A children's cookery show is looking for contestants and the winner will walk away with a large sum of money, enough to buy a doughnut machine that could help Tris make more and expand his business. He could also advertise his little town on national TV. But with the contestants all out to win and a judge who clearly dislikes him, can Tris keep a level head long enough to win the programme or will everything become too much for the young lad?
The Doughnut King begins right where The Doughnut Fix left off. Whilst I believe this book could be read as a standalone, I would always advise reading the first book as it will help you to understand how Tris got to where he is now and what he went through to become 'doughnut famous'.
The Doughnut King was a quick read and so enjoyable from beginning to end. Because I had already learned so much about Tris, his family, and friends in the first book I found being back in their presence such a delight and was eager for Tris to do well in the competition. I was also happy to be back listening to his talented and extremely clever little sister Jeanine.
There is so much charm in this story and I just didn't want it to end. I do hope that there will be more books in the series as they have both been superb reads and have had some very heart-warming moments alongside some laugh-out-loud ones too. I also adore the recipes at the back of the books and can't wait to try out the ones in this book. One warning though, reading this book might just make you hungry!
Book Reviewer – Stacey
---
Purchase online from:
---
About the Author

In high school, I fell in love with the French language (and French pastry!), and when I went to Princeton for college, I majored comparative literature because it allowed me to study French plus everything else I was interested in, including Creative Writing.
After college, I taught in a French public school high school for cooking and restaurant service. Then I sold translation rights for a publishing house. This led me to law school, which I loved. One of the many cool things about the U.S. legal system: it's built on stories!
Eventually, thanks to my family, I found myself back reading and writing stories, ones for kids because those are the ones I've always loved best.





---
What do you think of the book? Share your thoughts in the comment section below!
---
The above links are affiliate links. I receive a very small percentage from each item you purchase via these link, which is at no extra cost to you. If you are thinking about purchasing the book, please think about using one of the links. All money received goes back into the blog and helps to keep it running. Thank you.