The Doughnut Fix by Jessie Janowitz – Book Review
The Doughnut Fix by Jessie Janowitz – Book Review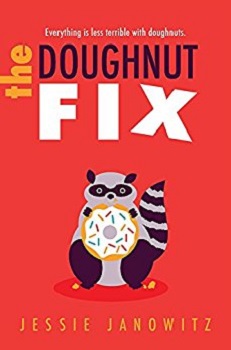 The Doughnut Fix
Author – Jessie Janowitz
Publisher – Sourcebooks Jabberwocky
Pages – 308
Released – 3rd April 2018
ISBN-13 – 978-1492655411
Format – ebook, hardcover
Reviewer – Stacey
Rating – 5 Stars
I received a free copy of this book
This post contains affiliate links.
Superfudge meets The Lemonade War in this funny, heartwarming series debut about change, adventure, family, and of course, doughnuts.
Tristan isn't Gifted or Talented like his sister Jeanine, and he's always been okay with that because he can make a perfect chocolate chip cookie and he lives in the greatest city in the world. But his life takes a turn for the worse when his parents decide to move to middle-of-nowhere Petersville—a town with one street and no restaurants. It's like suddenly they're supposed to be this other family, one that can survive without bagels and movie theaters.
His suspicions about his new town are confirmed when he's tricked into believing the local general store has life-changing chocolate cream doughnuts, when in fact the owner hasn't made them in years. And so begins the only thing that could make life in Petersville worth living: getting the recipe, making the doughnuts, and bringing them back to the town through his very own doughnut stand. But Tristan will soon discover that when starting a business, it helps to be both Gifted and Talented, and It's possible he's bitten off more than he can chew…

12-year-old Tristan's life had been rapidly turned up-side-down when his parents announced that they were moving from New York City to Petersville after his father lost his job at the bank.
Petersville was a small town with only one street, mainly filled with closed down shops. The train no longer stopped in the centre either, and there wasn't even a place to get anything to eat from, never mind buy a doughnut from.
The local convenience store, run by Winnie used to sell the best chocolate cream filled doughnuts, but she no longer made them as they were too popular. Tristan though had a plan. He couldn't start school for another few weeks, so he decided to try and get Winnie to give him her recipe so he could make and sell, the doughnuts. However, starting your own business was hard work – Good job he had 'Starting a Business for Dummies' book to hand.
The Doughnut Fix, is an amazing book. The characters are so believable, and likeable too. Tristan is a young lad who loved living in the city. He loved the people, places to go, the food and he even loved school. He had friends, especially his best mate Charlie. Upping and leaving for a place in the country was hard for him. He was sad, lonely and hungry. This is how he came across Winnie and her non-existent doughnuts.
As well as Tristan there is his super bright sister Jeanine. She is a genius and she knows it. She could be a little over-bearing, but nothing compared to his little sister Zoe who was a real hand full. I'm sure many young people will be able to relate to Tristan, especially if they too have annoying siblings!
I loved everything about The Doughnut Fix, it was so addictive and I was hooked right from the beginning. It was a lot of fun to read and very witty. The writing is superb and the setting just perfect. Be warned though, you may just get the urge for doughnuts too. Luckily Ms. Janowitz had put the recipe for the Chocolate Cream Doughnuts on her website for you all to make.
Book Reviewer – Stacey
---
Purchase online from:
---
ROOKIE CINNAMON SUGAR DOUGHNUTS*
Parental supervision necessary for frying. Makes 8 doughnuts and 8 doughnut holes
Ingredients:
Vegetable oil
1 (8-count) tube of premade, large biscuit dough (found in the refrigerated dough aisle at supermarkets)
½ cup sugar
¼ teaspoon ground cinnamon
Directions
Fill a large saucepan with vegetable oil to a depth of 1 inch.
Heat oil over medium heat until it reaches 365°F. You can measure the temperature with a cooking oil thermometer. Or, drop a single kernel of popcorn into the oil as it's heating. When the kernel pops, you're ready to fry.
While the oil heats, open the biscuit tube and separate the rounds. Use a 1-inch-round cookie cutter to cut a hole in the center of each biscuit. Save the holes.
Mix the sugar and cinnamon in a large shallow bowl.
Add 2 doughnuts to the hot oil at a time. Cook, turning once, until golden brown—about 1 minute per side.
Drain on paper towels and immediately toss in the cinnamon sugar to coat. Cool on a wire rack. Repeat with the remaining doughnuts and holes.
*Ready to graduate from rookie to experienced baker? You can make the Doughnut Stop's life-changing chocolate cream doughnuts too. Visit www.jessiejanowitz.com for the original recipe.
---
About the Author

In high school, I fell in love with the French language (and French pastry!), and when I went to Princeton for college, I majored comparative literature because it allowed me to study French plus everything else I was interested in, including Creative Writing.
After college, I taught in a French public school high school for cooking and restaurant service. Then I sold translation rights for a publishing house. This led me to law school, which I loved. One of the many cool things about the U.S. legal system: it's built on stories!
Eventually, thanks to my family, I found myself back reading and writing stories, ones for kids because those are the ones I've always loved best.






---