The Incredible Adventures of Scruffer & Co by John Serbin – Book Review
The Incredible Adventures of Scruffer & Co by John Serbin – Book Review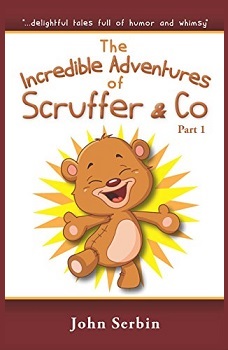 The Incredible Adventures of Scruffer & Co


Part One
Author – John Serbin
Pages – 202
Release Date – 21st April 2017
ISBN-13 – 978-1940465005
Format – ebook, paperback
Reviewer – Stacey
I received a free copy of this book
Post Contains Affiliate Links

A self-centered teddy bear becomes real and has to learn how to live in this new reality.
He is soon joined by other teddy bears with differing personalities. Together, they embark on a series of comical adventures as only fun loving teddy bears can.

Nicholas Jaye Kensington IV was a teddy bear that could walk and talk. He was hoping for a perfect life with a rich family who had loving children to take him home from the shop and care for him. Unfortunately, that didn't happen, he was bought by newly married couple Paula and John, who lived in a small one bedroom apartment.
Nicholas was angry at not getting his perfect life. In the afternoon when John had left the apartment, he decided to confront Paula and tell her to take him back to the shop, now. After getting over the shock of a talking bear, Paula became irate when Nicholas told her she wasn't good enough to look after him, and that he wanted a rich family. He then called her a 'Nutcake'.
Paula decided to put Nicholas in his place, firstly by renaming him Scruffer. Shortly afterwards Paula brought home another teddy bear, which she named TB. Over time a few more join the family too.
Will Scruffer manage to find happiness living with such a poor family?
The Incredible Adventures of Scruffer and Co, is an amusing, and at times laugh out loud book about the adventures of a teddy bear and his 'friends'.
I am unsure where to place this book, in terms of genre. From the front cover I was expecting a children's book, but then after reading it, I now feel it would fit better within the YA market, as there is a lot of text, no images, and the wording is a little too old for a child.
The book is certainly interesting, and had me hooked. It kept me engaged right to the end with the adventures the bears, and humans went on. The plot is unique, and the characters are easily likeable.
A fun book that I was pleasantly surprised by how much I enjoyed reading it, though I did keep on imaging the movie Ted whilst reading it, albeit without the rude, swearing parts.
Book reviewed by Stacey
Purchase Links