Washington D.C. Monsters by Rebecca K Moeller – Book Review
Washington D.C. Monsters by Rebecca K Moeller – Book Review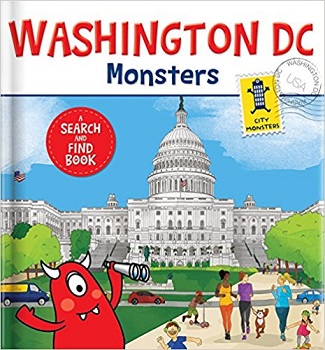 Washington D.C. Monsters


A Search-And-Find Book
Author – Rebecca K Moeller
Publisher – City Monsters
Pages – 22
Release Date – 28th August 2017
ISBN-13 – 978-2924734063
Format – hardcover
Reviewer – Stacey
I received a free copy of this book
Post Contains Affiliate Links

Do you know Washington D.C.? The nation's capital attracts people from all over the world–even little monsters! Did you know that?
Monsters are masters of camouflage who can easily hide in plain sight. They get lost among the Cherry Blossoms at the Thomas Jefferson Memorial, go undercover in the National Gallery of Art and even stow away at the Smithsonian National Air and Space Museum!
Have fun spotting them all as you explore some of The District's most iconic landmarks and sights, including the United States Capitol Building, the National Mall, the Washington Monument, the Lincoln Memorial, the Smithsonian's National Zoo, the National Museum of Natural History, the Kennedy Center and Georgetown.

Washington D.C Monsters is part of the City Monsters series of books, and the fourth book in the series that I have reviewed.
Each book takes a different city in the United States, and teaches children about some of the famous landmarks that the city has to offer. Each page also has a few little monsters for them to find.
At the bottom of each page it states how many monsters there are to discover. Some are easy to find, whilst others may take you quite a while.
What I like about this series of books is that it combines informative information, alongside something fun for children to do. So they are learning without realising.
The illustrations cover the whole page, are bright coloured, and wonderfully drawn too. They certainly do capture the eye.
In the Washington D.C book, the US Capitol, there are lots of famous places to visit including:-
– Lincoln Memorial
– National Air and Space Museum
– Kennedy Center
– National Cherry Blossom Festival
– Georgetown
– The Awakening (in nearby Maryland)
This series of books are loved in our house, so much so that my son is forever asking if the publishers have released more yet. So when I told him a few days ago that three more have been released, he was elated. The reviews for the other two will be coming over the next few weeks.
These books are really fun to read and even-though they are only quite short, they certainly pack a lot into those pages.
Book reviewed by Stacey
Purchase Links

You can read our reviews of the other 'City Monsters' books – New York City – San Francisco – Chicago