Home Is Where The Heart Is by Jonny Lambert – Book Review
Home Is Where The Heart Is by Jonny Lambert – Book Review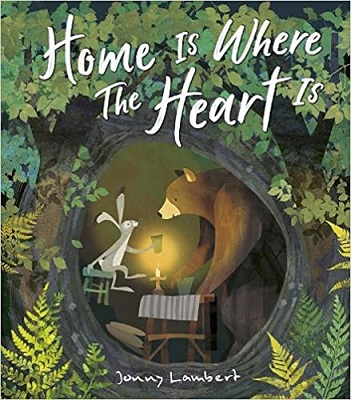 Home Is Where The Heart Is
Author – Jonny Lambert
Publisher – Little Tiger Press
Release Date – 6th January 2022
Pages – 32
ISBN 13 – 978-1801041706
Format – Hardcover
Star Rating – 4
I received a free copy of this book.
This post contains affiliate links.

Synopsis
When Bear moves into a new home in the woods, his home feels empty, and Bear is a little bit lonely. With a RAT-A-TAT-TAT! on his neighbour's door, Bear quickly finds a warm smile and friendship with Hare. When a storm CRASHES through the wood, destroying Bear's home, the two friends discover that home is more than just a house . . . it's where the heart is.
Exploring the true meaning of belonging, this is the perfect introduction into the joys and complexities of friendship. Another story to treasure for fans of Jonny Lambert's other books, Little Why, The Great Aaa-Ooo, The Only Lonely Panda and The Big Angry Roar.
Home Is Where The Heart Is, is a sweet tale about a bear and a hare. Bear moves in next door to Hare. Bear's home is large but has no feeling to it, no matter how much he tries to make it homely. Feeling sad he knocks on his neighbour's door and is invited into Hare's small and cluttered home.
Although they are both different, Hare is old, Bear is young. Hare is messy, Bear is tidy, the two learn that they enjoy spending time together and all through the seasons they enjoy each other's company. But then something bad happens to Bear's home, how will the two cope?
The story is beautifully told and shows the true meaning of friendship and that home is definitely where the heart is. The full-page illustrations throughout are absolutely amazing and capture the story perfectly.
This is a lovely children's book that reminds me of the kind of stories I read as a child. Touching words surrounded by adorable illustrations and a heart-warming plot.
---
Purchase Online:
Jonny Lambert
Jonny grew up in Surrey and always knew he wanted to be an artist of some sort. Encouraged by his art tutor at the Reigate School of Art and Design, Jonny is now an artist of many sorts: a talented illustrator with over 300 titles to his name, designer, and paper engineer. He lives with his wife, daughter and a menagerie of animals near Horsham, West Sussex.
Author Links:
---
Share your thoughts on Home Is Where The Heart in the comment section below!
---
The above links are affiliate links. I receive a very small percentage from each item you purchase via these links, which is at no extra cost to you. If you are thinking about purchasing the book, please think about using one of the links. All money received goes back into the blog and helps to keep it running. Thank you.
Like us on Facebook – Tweet us on Twitter – Join us on Instagram