Haunted by Tessa Buckley – Book Review
Haunted by Tessa Buckley – Book Review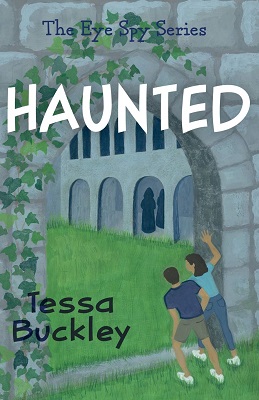 Haunted
The Eye Spy Series Book Two
Author – Tessa Buckley
Publisher – Matador
Pages – 169
Released – 27th July 2017
ISBN-13 – 978-1838594886
Format – ebook, paperback
Rating – 4 Stars
I received a free copy of this book.
This post contains affiliate links.


Synopsis
Alex doesn't believe in ghosts, but he is about to have his beliefs challenged.
When Jimmy Devlin asks Alex and Donna to investigate the strange things that have been happening at The Priory, Alex seizes the opportunity to prove to his sister that ghosts don't exist. But as they start to look into the unexplained noises and shadowy figures, it becomes clear that unquiet spirits are far from the only problem facing the Devlin family. Can the twins solve the many mysteries of The Priory at the same time as outwitting a very dangerous enemy?
Twins Donna and Alex catch up with new student Jimmy at their high school who they haven't seen since they were at primary school together.
Jimmy explains to the twins that his father won the lottery and that they moved into the old mansion in town called The Priory and until recently he attended a private school.
He also tells them that The Priory is haunted. Donna and Alex are the founding members of the 'Eye Spy Investigation club' and tell Jimmy they can find out what is really happening at his home as they don't believe in ghosts.
Haunted is the second book in the Eye Spy series by author Tessa Buckley. Funny enough I have read book three 'Lady in Red' but not book one, yet.
The story is aimed at middle-graders and would make the perfect book for those just moving on to larger storybooks as they are easy to read and don't contain any words that are hard to read or understand.
The kids are all headstrong and work well together. They love investigating and welcome a good mystery in their lives.
The plot features ghostly activity and dangerous criminals but I can't say any of it was scary. It's a feel-good children's adventure novel that compliments the series perfectly. A few good twists give this story an exciting feel too.
For children who want a good mystery to read that will keep them entertained won't be disappointed.
Purchase Online From:
---

---
What did you think of 'Haunted'? Share your thoughts in the comment section below!
---
The above links are affiliate links. I receive a very small percentage from each item you purchase via these link, which is at no extra cost to you. If you are thinking about purchasing the book, please think about using one of the links. All money received goes back into the blog and helps to keep it running. Thank you.
Like us on Facebook – Tweet us on Twitter – Pin us on Pinterest – Join us on Instagram