San Francisco Monsters by Carine LaForest – Book Review
San Francisco Monsters by Carine LaForest – Book Review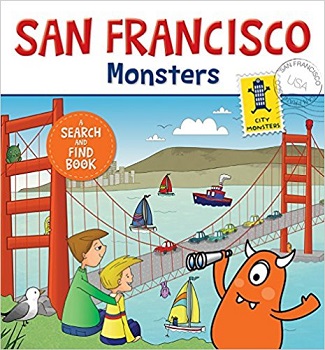 San Francisco Monsters


A Search-And-Find Book
Author – Carine LaForest
Illustrator – Stephanie MacKay
Publisher – City Monsters
Pages – 22
Release Date – 16th May 2017
ISBN-13 – 978-2924734032
Format – board book
Reviewer – Stacey
I received a free copy of this book
Post Contains Affiliate Links

Do you know San Francisco? The majestic city on the edge of the Pacific Ocean is such a great place to live that even little monsters have taken up residence there. Did you know that?
Monsters are masters of camouflage who can easily hide in plain sight. They sneak aboard the city's famed cable cars, go undercover among the sea lions of Fisherman's Wharf and even roam the Golden Gate Bridge!
Have fun spotting them all as you explore some of San Francisco's most iconic landmarks and sights, including Union Square, Chinatown, Alcatraz, the California Academy of Sciences, Alamo Square, Fisherman's Wharf, Lombard Street, the Palace of Fine Arts and Ghirardelli Square.

Back in January I had the pleasure of reviewing 'New York City Monsters'. At the time I hadn't realised that the book was going to be part of a collection, with San Francisco, and Chicago ready to be released in May 2017, and Boston and Washington DC set for publication in August 2017.
I awarded 'New York City Monsters' five stars, so when the San Francisco Monsters became available to read and review I jumped at the chance. The difference between these two books, to me, is that I have been to New York so the places in the book were familiar. With this book, apart from a few that I'd heard of, such as the Golden Gate Bridge, the places were all unfamiliar to me, so that meant not only could I see them drawn in the book, but I started Googling them too.
Each page visits a different building, landmark, or famous street, such as Union Square, Dewey Monument, Fisherman's Wharf, etc. On each page there are also hidden monsters In the bottom right hand corner another monster tells you how many are hidden on that page.
My youngest son and I enjoy trying to find the monsters. Some are easier to find than others, and on one page I think we spent about ten minutes trying to locate the last one (of course my son found it first 🙂 ). He has now asked can we read the other books, which goes to show how interesting the stories are.
San Francisco Monsters is colourful, informative, and with the added bonus of hidden monsters throughout it is great fun too. Another five stars. Now to read and review the others!
Book Reviewed by Stacey
Purchase Links

You can read our reviews of the other 'City Monsters' books – New York City – Washington D.C – Chicago