Jake Atlas and the Tomb of the Emerald Snake by Rob Lloyd Jones – Book Review
Jake Atlas and the Tomb of the Emerald Snake by Rob Lloyd Jones – Book Review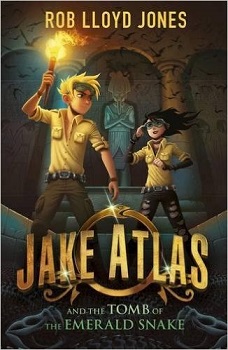 Jake Atlas and the Tomb of the Emerald Snake
Author – Rob Lloyd Jones
Publisher – Walker Books
Pages – 336
Release Date – 5th January 2017
ISBN-13 – 978-1406361445
Format – ebook, paperback, audio
Reviewer – Stacey
I received a free copy of this book
Post Contains Affiliate Links

Indiana Jones meets Mission Impossible in this riveting page-turning adventure by an award-winning author. The Atlas family is in trouble: Jake hides an addiction to stealing; his twin sister, Pan, has to conceal her genius, for fear of bullies. The siblings can't stop fighting – with each other and with their parents, stuffy professors of Ancient History.
But Jake's and Pan's lives take a dramatic turn the day they discover the truth about their boring mum and dad. When the family go to Cairo on holiday, Jake and Pan's parents mysteriously vanish and it's up to the twins to find them. They must team up with shady tomb robbers, master high-tech gadgets and locate a lost tomb in this story of a family that finds itself in the deserts of Egypt.

12 year old twins Jake and Pandora (Pan), are off on a family holiday with their parents to Egypt. Even before they have boarded the plane, Jake lands himself in a spot of bother, after stealing a tablet, (the electronic type).
Whilst hiding from security, and trying to get to his boarding gate on time, he becomes trapped. That is until a mysterious person speaks to him, telling him when to run, and when to hide, until the voice gets him onto his plane without being seen.
Once in Egypt, the pair are left on their own whilst their Egyptologist parents attend lectures and meetings. It is after one of these meetings that the two of them fail to return. Deciding against calling for help, the twins set out following the trail of clues in order to save their parents.
Jake Atlas and the Tomb of the Emerald Snake, is full of excitement, action, intrigue and mystery. It has a great plot, surrounded by Egyptian scenery that you can vividly imagine, and wonderful characters.
Jake is a cheeky chappy. He's smart, funny, plus a little bit big headed, yet he is extremely likeable. Pandora is more level headed, though a little moody. The two completely complement one another.
There are plenty of twists and turns, and often I found myself on the wrong trail. There are also lots of facts hidden amongst the fast paced action scenes. You will often find yourself laughing out loud.
Jake Atlas and the Tomb of the Emerald Snake is the perfect book for all those who are interested in the likes of Indiana Jones, Mission Impossible, etc. A great book that I couldn't awarded anything other than five stars.
Book Reviewed by Stacey
Purchase Links


Rob Lloyd Jones was born in San Francisco but grew up in London. He studied Egyptology at University where he learnt hieroglyphics, and often goes on digs with the Egypt Exploration Society. He is a senior editor at Usborne, for whom he has written over thirty books – mostly historical non-fiction, but also adaptations of classics such as JEKYLL AND HYDE and THE COUNT OF MONTE CRISTO.
Rob is also a volunteer reading helper at a primary school in Clerkenwell and wrote episodes of the children's TV show 'Bernard's Watch' for Carlton Kids. He lives in south London with his wife Sally, and son Otis.
Author Links