The Queen in the Cave by Julia Sarda – Book Review
The Queen in the Cave by Julia Sarda – Book Review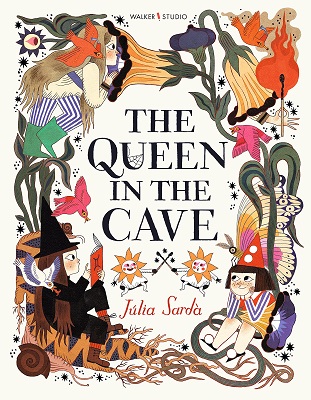 The Queen in the Cave
Author – Julia Sarda
Publisher – Walker Studio
Pages – 64
Released – 7th October 2021
ISBN-13 – 978-1406367430
Format – hardcover
Rating – 4 Stars
I received a free copy of this book.
This post contains affiliate links.


Synopsis
Júlia Sardà spins an enthralling and evocative tale rich with layers of meaning to be unearthed.
One night, Franca has a dream about a marvellous queen. And now she feels intrigued… Eager to know more about this mystical figure, Franca shares her dream with her two younger sisters. Together, they set out on an enchanting adventure to discover the kingdom of the queen in the cave.
This is a riveting and atmospheric picture book that will surprise and enthral young readers and dreamers.
The Queen in the Cave is a unique children's book featuring three sisters. One of the sisters, the eldest has a strange feeling, to help herself feel better she decides she wants to search in the woods for the Queen she dreamt about that lives there in a cave.
I have a feeling this is a story that is going to get very mixed reactions and one that people come up with their own meaning behind what is happening. For me, this is a book about depression. The opening page has the eldest daughter talking about how she has a funny feeling that means she no longer wants to paint, make collages or read. She talks about how she can't describe the feeling but it is similar to when you are hungry but nothing seems appetising.
The artwork reminded me a little of Alice in Wonderland with bizarre scenes, varied and mixed colours, and characters that are real, yet not how they are in the real world. Such as huge snails you can ride. There is so much happening in each scene that you can spend a lot of time just looking and analysing the drawings. There is also a lot of text to read, so not a book for little children.
It is a complex book and one I was drawn to. I like unusual stories, ones that don't follow the norm and this certainly is unusual. I just hope that children can appreciate the story too.
Purchase Online From:
---
What did you think of 'The Queen in the Cave'? Share your thoughts in the comment section below!
---
The above links are affiliate links. I receive a very small percentage from each item you purchase via these links, which is at no extra cost to you. If you are thinking about purchasing the book, please think about using one of the links. All money received goes back into the blog and helps to keep it running. Thank you.
Like us on Facebook – Tweet us on Twitter – Pin us on Pinterest – Join us on Instagram