Archibald Finch and the Lost Witches by Michel Guyon – Book Review
Archibald Finch and the Lost Witches by Michel Guyon – Book Review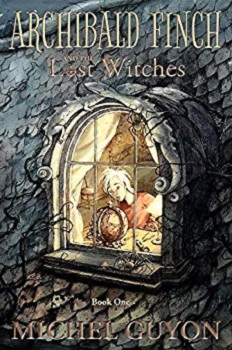 Archibald Finch and the Lost Witches
Author – Michel Guyon
Illustrator – Zina Kostich
Publisher – Line 8
Pages – 350
Released – 8th October 2018
ISBN-13 – 978-1732569928
Format – ebook, paperback, hardcover
Reviewer – Stacey
Rating – 5 Stars
I received a free copy of this book
Post contains affiliate links.
Who has never dreamt of being whisked away to a world of fantasy, ruled by magic, and populated by mythical creatures? Well… not Archibald Finch. Exploring his Grandma's manor, an adventure is not what he was looking for — only his Christmas present. Instead, it's a family secret he stumbles upon. Key to that mystery, an ancient terrestrial globe, populated by the most fantastic beasts. When he unlocks the storm trapped inside, Archibald is thrust into the unknown — a dark land where a battle started in the Middle Ages is still unfolding. Beware, broomsticks don't fly in Lemurea. But Marodors do…
A MYSTERY GLOBE
A.K.A. the Orbatrum. The last link to a time of great fears and superstitions. What happened 500 years ago would have remained buried forever, if not for an 11-year-old boy.
A RISK-AVERSE BOY
Cursed with a gift, Archibald knows everything, except why it is he knows so much. But all the knowledge in this world will be of little help in the adventure he just got sucked into.
A HIDDEN WORLD
A land of small wonders and great scares, haunted by a battle born in the darkest of ages. On the front line, an army of young witches, lost in time. Down here, It's light versus darkness, magic versus fire. Some say, good versus evil.
FANTASTIC CREATURES
The likes of which you have never seen. Part beast, part human, they are the original dragons, which will make you forget everything you thought you knew about dragons.
A SCARY PUZZLE
A heart-stopping quest, from a sister left behind. Setting out on her own journey, Hailee will have to adapt, as she unveils the grim plans of a mysterious priest.
A AWE-INSPIRING TEEN FICTION BOOK
Two breathtaking stories, running parallel with one another, but tightly intertwined. Two worlds, on a perilous collision course…
The first installment in a phenomenal series, The Lost Witches reads like an addicting thriller — and sets the stage for more adventures to come for Archibald Finch.

When Archibald's Grandmother dies the family including his parents and his sister move into her huge mansion, complete with Manservant. Whilst on the hunt for his Christmas present, which his mother tells him she hasn't bought, he discovers a box hidden on a shelf in the library and mistakes it for his gift.
Inside is an old globe with countries on he doesn't recognise. He has a feeling that the globe opens somehow and fiddles with it to try to see inside. Unfortunately, the globe is more than it seems, it is like a key to another world and sucks Archibald and half his bedroom furniture inside to an old, magical world called Lemurea where female witches live together and fight the evil beasts that occupy this world. Their only protection is the Golem stones.
Whilst Archibald is in the magical world, his sister Hailee is in the present day searching for her brother and trying to find out about the globe, not realising someone who has been looking for it a long time is on her tail. What the siblings don't understand is how entwined the two worlds are.
Archibald and the Lost Witches is the first book in a planned series by Michel Guyon. It is a fascinating adventure with mythical beasts, evil beings, and a magical world, plus some feisty witches with attitudes. The chapters have perfect titles and there are the most amazing illustrations throughout too.
We get to spend time in Lemurea with Archibald and London with Hailee and it was nice to have the two storylines co-existing and delve in deeper into the plot with both brother and sister who have very different personalities. Archibald is a bit of a geek and a know-it-all. He absorbs information easily. Whereas Hailee is more your average teenager who gets annoyed easily by her little brother but you realise how much she must love him to never stop searching for him.
There are a lot of MG books that incorporate magical, mystery worlds, witches, and beasts but I feel this book stands on its own merits. It is not like any other MG book I have read.
Archibald Finch and the Lost Witches is exciting and absorbing the whole way through and you never know what is coming next, keeping you on your toes and pleasantly surprised throughout. My only concern for the book is how many pages the book has for an MG book. I do hope this doesn't put anyone off reading it as the book is completely mesmerising from beginning to end and really is worth your time.
Reviewed by Stacey
---
Purchase online from:
---
About the Author

The author was born in France, in a small medieval town perched on a rock, surrounded by high walls, with the remains of an ancient fortress at its heart. That's where he got his first brush with old myths, puzzling legends and dark Middle Age tales.
While his childhood fed his fertile imagination, his travels as a reporter, from Bosnia all the way to Afghanistan, were crucial in shaping his view of the world. Not unlike Archibald's sister in the book, Michel has indeed learned a thing or two about mining for clues and connecting the dots. For 10 years, he was an investigative journalist for newspapers in magazines and Europe. He also published several books for children and young adults – not to mention his communication work for the European Space Agency, where he was tasked to make space exploration less opaque to the public.
Writing this latest adventure has been a fun endeavor for Michel. Like most of the author's work though, there's more than meets the eye. A fervent advocate of learning via entertainment, he always strives to shed light on important subject matters – in this case, Women's rights, wars, and the future of our planet. That logic was key to the making of Archibald Finch, a magic potion mixing science with science fiction, fantasy with actual events, and fictional heroes with historic characters.
Giving life to the most fantastic beasts and the most captivating story was indeed an opportunity to dig deep into the roots of witch-hunting, and explore one of the darkest episodes of Human History – of course with the right dose of humor and fun. Today, Michel spends his life between Los Angeles and New York, where he also works as a photographer, mainly for the Movie industry.





---