Who Said Cheep? by Yi-Hsuan Wu – Book Review
Who Said Cheep? by Yi-Hsuan Wu – Book Review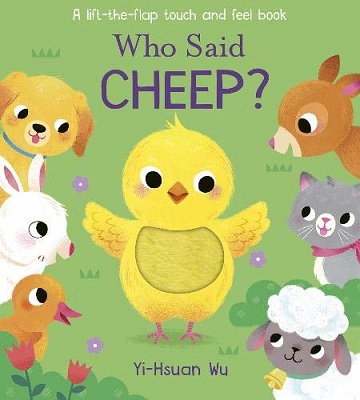 Who Said Cheep?
Author – Yi-Hsuan Wu
Publisher – Little Tiger Press
Pages – 10
Released – 4th February 2021
ISBN-13 – 978-1788818773
Format – boardbook
Rating – 4 Stars
I received a free copy of this book.
This post contains affiliate links.


Synopsis
Who said 'Cheep'? Was it Puppy? No, it was Chick!
This interactive board book will make children laugh with funny pairings, before helping them learn which noise matches which animal. With sturdy flaps to lift, tactile fabrics and a surprise mirror ending!
Who Said Cheep? is a very short young children's board book that pairs animals together and asks 'who said?'.
Each double-page contains a question about an animal noise, an animal that doesn't make that sound with a piece of material that kids can feel. Then there is a flap that they can lift up/down which is hiding the correct animal underneath.
The bright, colourful illustrations are eye-catching and the little piece of material that children can rub and the flaps make the book interactive, as well as a mirror at the back for them to state what noise they make into.
The book is very short, but I think it is the perfect length for very young children whose attention spans don't last long. Plus with it being a board book it isn't easy to destroy. The flaps are a little thinner but still will be hard to rip.
Purchase Online From:
---
What did you think of 'Who Said Cheep?'? Share your thoughts in the comment section below!
---
The above links are affiliate links. I receive a very small percentage from each item you purchase via these link, which is at no extra cost to you. If you are thinking about purchasing the book, please think about using one of the links. All money received goes back into the blog and helps to keep it running. Thank you.
Like us on Facebook – Tweet us on Twitter – Pin us on Pinterest