I'm Sorry! by Barry Timms – Book Review
I'm Sorry! by Barry Timms – Book Review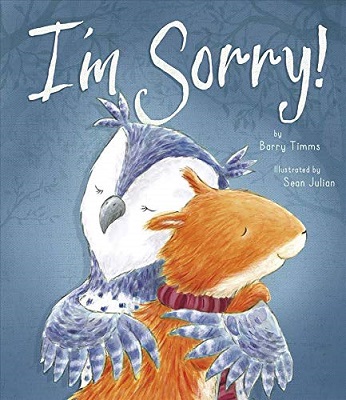 I'm Sorry!
Author – Barry Timms
Illustrator – Sean Julian
Publisher – Little Tiger Press
Pages – 32
Released – 4th February 2021
ISBN-13 – 978-1788815895
Format – paperback, hardcover
Rating – 4 Stars
I received a free copy of this book.
This post contains affiliate links.


Synopsis
Scribble and Swoop are the best of friends – until the day they have a TERRIBLE QUARREL! Which friend will be the first to say sorry? And can an apology fix their precious friendship?
The perfect story for teaching young children the importance of meaningful apologies.
Best friends Swoop who is an Owl and Scribble who is a Squirrel meet every single day to be together and so that scribble can do some writing and Swoop can build things. They lived a long way from their meeting place and decided that perhaps they should get a house somewhere closer, together.
The pair found the perfect house with a lovely veranda. But not soon afterward they began to fall out over who should use the veranda for their work and horrible words were exchanged and things got broken. It wasn't long before the pair realised their mistakes and that sorry was needed to be said, but only if they truly meant it to one another.
I'm Sorry! is a beautiful children's book that not only teaches children to say sorry, it also teaches them that they have to mean the word as without meaning it 'Sorry' is just an empty work and is not an apology.
The funny thing is I actually hate the word 'Sorry' and think it is overused by people who think they can do what they like and say sorry and everything is back to how it was, so perhaps this book would be good for some adults to learn that you have to mean what you say. ?
The full-page illustrations are lovely to look at. They have an old-fashioned feel to them and I adored Swoop and Scribble and how alike, yet also how different they were. Plus I liked their passion for their crafts.
This is a remarkable book that would make a nice bedtime story or be used when a child needs to understand how to apologise and why they should when they have done something wrong or upset someone else. It would also be a wonderful addition to a school library.
Purchase Online From:
---
What did you think of 'I'm Sorry!'? Share your thoughts in the comment section below!
---
The above links are affiliate links. I receive a very small percentage from each item you purchase via these link, which is at no extra cost to you. If you are thinking about purchasing the book, please think about using one of the links. All money received goes back into the blog and helps to keep it running. Thank you.
Like us on Facebook – Tweet us on Twitter – Pin us on Pinterest