The Little Prince by Louise Greig – Book Review
The Little Prince by Louise Greig – Book Review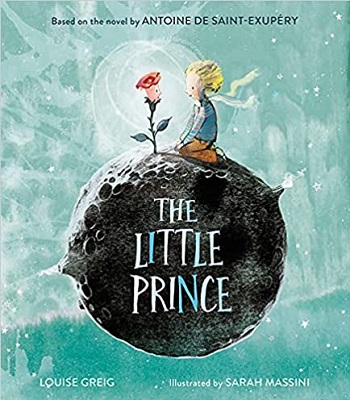 The Little Prince
Author – Louise Greig & Antoine de Saint-Exupery
Illustrator – Sarah Massini
Publisher – Farshore
Pages – 32
Released – 9th December 2021
ISBN-13 – 978-1405288125
Format – hardcover
Rating – 3.5 Stars
I received a free copy of this book.
This post contains affiliate links.


Synopsis
Antoine de Saint-Exupéry's tender and magical classic fable, adapted for picture book readers for the very first time!
Please – draw me a sheep.
I blinked.
The voice belonged to a charming little prince.
The characters of Antoine de Saint-Exupéry's classic tale have captured the hearts of generations of readers. Meet the pilot stranded in the desert. Meet the Little Prince who tends his beautiful rose on a planet of his own. Follow him as he embarks on a strange and wonderful journey to puzzling new planets and finally to Earth, where he discovers the nature of love.
The Little Prince is an adapted version for little children of the full book written by the author Antoine de Saint-Exupery. Now, I have never read the book, to be honest, I'd never heard of it until this adapted version arrived and I looked it up.
If you have read the original this story may make more sense to you. To me, I found it confusing in places and hard to follow/understand. It kind of jumps from one scenario to another. I also struggled to work out what the meaning behind everything was, though looking at the original it seems to be a story of The grass isn't always greener/enjoying what you already have.
I did love the full-page, colourful illustrations and young children that are new readers will be able to read this book as there isn't a great deal of text and it is written in short paragraphs.
The Little Prince is a decent, quick read. I'm sure it will be magical and enchanting to a lot of readers, but for me not fully understanding what was happening put a dampener on my enjoyment, which is a shame as it looks so good too.
Purchase Online From:
---
What did you think of 'The Little Prince'? Share your thoughts in the comment section below!
---
The above links are affiliate links. I receive a very small percentage from each item you purchase via these links, which is at no extra cost to you. If you are thinking about purchasing the book, please think about using one of the links. All money received goes back into the blog and helps to keep it running. Thank you.
Like us on Facebook – Tweet us on Twitter – Pin us on Pinterest – Join us on Instagram