The Story of a Seagull and the Cat who Taught her to Fly by Luis Sepúlveda – Book Review
The Story of a Seagull and the Cat who Taught her to Fly by Luis Sepúlveda – Book Review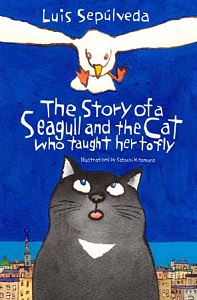 The Story of a Seagull and the Cat who Taught her to Fly
Author – Luis Sepúlveda
Publisher – Alma Books Ltd
Pages – 124
Release Date – 17th March 2016
Format – ebook, paperback
Reviewer – Stacey
I received a free copy of this book
Post Contains Affiliate Links

A Cat, A Seagull, An Impossible Task…Caught up in an oil spill, a dying seagull scrambles ashore to lay her final egg and lands on a balcony, where she meets Zorba, a big black cat from the port of Hamburg. The cat promises the seagull to look after the egg, not to eat the chick once it's hatched and – most difficult of all – to teach the baby gull to fly.
Will Zorba and his feline friends honour the promise and give Lucky, the adopted little seagull, the strength to discover her true nature?
A moving, uplifting and life-enhancing story with a strong environmental theme, Luis Sepúlveda's instant children's classic has been a worldwide best-seller and is presented here with new drawings by acclaimed illustrator Satoshi Kitamura.

When a seagull becomes stuck in an oil slick, she just about manages to use her last ounce of energy to get out of it, and lands on a balcony in the port of Hamburg.
The balcony belongs to Zorba, a black cat who tries to help the seagull to stay alive. Just before she dies the seagull lays an egg and makes Zorba promise that he will look after it, and teach the chick to fly. Zorba agrees, even though he has no idea how to teach a chick to fly.
When the egg finally hatches, the chick believes that Zorba is her mum and that it is now up to Zorba to look after it, including teaching her to fly.
The Story of a Seagull and the Cat Who Taught Her To Fly is a tale about love, friendship, commitment and honour. It is also about learning to believe in yourself.
Zorba is distressed when he finds the dying seagull and goes to fetch help from the cats of the port. He is exceptionally caring and very protective towards his chick, who has been named Lucky.
He doesn't know the first thing about looking after a seagull though, and that's where his friends come in handy. Segretarion, a skinny cat who lives at an Italian restaurant, The Colonel, a mysterious cat who is older than any other cat, and gives out great advice to all who will listen, Einstein, the clever cat who gets all of his knowledge from an encyclopaedia and lives at Harry's bazaar with his owner, and Matthew the chimpanzee.
The story is about the cats coming together to help the little chick flourish and protect her from the alley cats. With the four of them putting their heads together and never giving up, Zorba may just make good on his promise.
The Story of a Seagull and the Cat who Taught her to Fly is a sweet children's book that was entertaining and amusing, with plenty of beautiful illustrations to liven the book up.
Book reviewed by Stacey
Purchase Links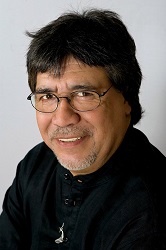 Chilean writer, film director, journalist and political activist whose success has been perceived more abroad than in his homeland. Following the publication of the novel The Old Man Who Read Love Stories (1992), became one of the most widely read Latin American writers worldwide.
From a young age he made numerous trips from Punta Arenas to Oslo and Barcelona to Quito. He also visited the Amazon and the Sahara desert. Politically engaged, he was imprisoned during the dictatorship of Pinochet and later left the country. Exile took him to Europe, where it has been published most of his novels and stories, showing no special desire to return to his country, which earned mixed reviews for a while. Like Isabel Allende, his literary work has not been valued in line with its sales success.
Author Link