The Giant's Necklace by Michael Morpurgo – Book Review
The Giant's Necklace by Michael Morpurgo – Book Review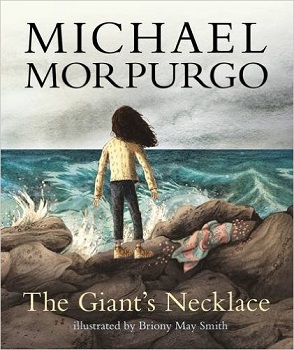 The Giant's Necklace
Author – Michael Morpurgo
Illustrator – Briony May Smith
Publisher – Walker Books
Pages – 80
Release Date – 3rd November 2016
ISBN-13 – 978-1406357127
Format – ebook, paperback, hardcover
Reviewer – Stacey
I received a free copy of this book
Post Contains Affiliate Links

A tense and thrilling ghost story from the internationally acclaimed author of War Horse.
It all began with a necklace, made of glistening pink cowrie shells. A long, long necklace that had taken Cherry days – weeks – of careful, painstaking work. It was nearly complete, and Cherry was determined it would be the longest necklace she had ever made; that it would be fit for a giant! But the end of the holidays had arrived. "You've only got today, Cherry," said her mother. "Just today, that's all." Cherry didn't mind, a day would be enough – she only needed a few more shells.
So, amidst the taunts of her older brothers, she set out to search for them. Then the clouds grew dark and the waves grew large, and as the storm blew in, Cherry realised, to her horror, that she was cut off from the shore. From then on, events began to take a decidedly dark turn. One from which there was no turning back…

Eleven year old Cherry is on holiday with her family. She decides that she would like to make a seashell necklace fit for a giant, but the giants have very wide necks, which means she needs lots of shells.
On their last day, Cherry realises that she still hasn't made the necklace big enough and asks her mum if she can stay for a little longer on the beach, near the cottage that they are renting. Her mum agrees that she can, for just a little while.
Cherry is so occupied with collecting her shells, that she doesn't see the big black clouds rolling in, and the waves getting bigger. By the time she notices, it's too late. She is stuck, cut off from the shore. Her only means of escape is to climb the rocks high enough to get to safety.
Will Cherry manage to get to safety? Will she be able to finish her necklace? And just who might she meet on her journey back to the cottage?
The Giant's Necklace is a ghost story for children. As you might have gathered, this isn't a lovey-dovey, sweet children's book. This is a book for older children who love adventure/ghost tales.
Written by Michael Morpurgo, who is a fantastic author, he has the skills and the expertise to drag you into the story and have you clinging on to the characters, hoping that everything will be okay in the end.
The book follows Cherry's story, who is such a lovely young girl. She is determined, and no teasing from her older brothers will stop her building her necklace.
The beautiful illustrations throughout will help children have a better connection with the story, and help them to visualise the words that they are reading.
As well as being a ghost story, the book also gets across the powerful message about how quickly you can suddenly find yourself in danger whilst at the beach, and that by taking care, you won't end up in Cherry's predicament.
I loved this book, and Michael certainly got me with the ending, as I really didn't see it coming, and was shocked.
The Giant's Necklace Reviewed by Stacey
Purchase Links

Why not have a read of our reviews of Michael Morpurgo's other books – 'The Pied Piper of Hamelin' and 'My Father is a Polar Bear'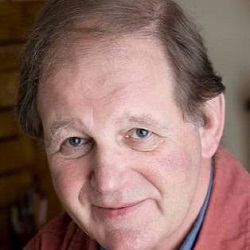 Michael Morpurgo is the author of many books for children, five of which have been made into films. He also writes his own screenplays and libretti for opera.
Born in St Albans, Hertfordshire, in 1943, he was evacuated to Cumberland during the last years of the war, then returned to London, moving later to Essex. After a brief and unsuccessful spell in the army, he took up teaching and started to write. He left teaching after ten years in order to set up 'Farms for City Children' with his wife. They have three farms in Devon, Wales and Gloucestershire, open to inner city school children who come to stay and work with the animals.
In 1999 this work was publicly recognised when he and his wife were awarded an MBE for services to youth. He is also a father and grandfather, so children have always played a large part in his life. Every year he and his family spend time in the Scilly Isles, the setting for three of his books.
Author Links