Cole and the Giant Gingerbread House by Riya Aarini – Book Review
Cole and the Giant Gingerbread House by Riya Aarini – Book Review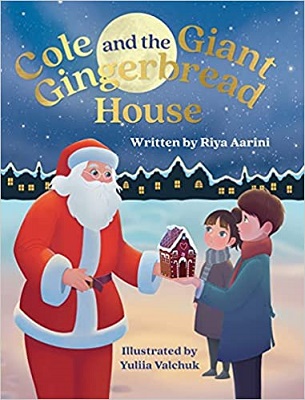 Cole and the Giant Gingerbread House
Author – Riya Aarini
Illustrator – Yuliia Valchuk
Pages – 34
Released – 16th October 2021
ISBN-13 – 978-1736316924
Format – ebook, paperback, hardcover, audio
Rating – 3.5 Stars
I received a free copy of this book.
This post contains affiliate links.


Synopsis
Cole and Claudia are poor and homeless on Christmas Eve. Cole's kindness toward another hungry child draws attention from Santa Claus, who gifts the siblings with a very special gingerbread house.
Cole and the Giant Gingerbread House explores the realities of hunger and homelessness, while inspiring empathy and gratitude. Readers will find hope and goodwill eloquently expressed throughout this magical holiday tale!
Cole and the Giant Gingerbread House is a children's picture book by author Riya Aarini. It tells the story of two homeless children who go out looking for food/money when their parents are too sick to go. After a good deed by one of the children they meet Father Christmas who gives them a tiny gingerbread house and tells them to plant it in a secluded place. But what will happen to it?
The book is very sweet and beautifully illustrated with full-page festive scenes. I like the idea behind the plot but I'm not sure the message comes across as strongly as it could have.
Whilst I love the illustrations the children don't look homeless, they have decent clothes on, shoes, coats, scarves. They are clean, their hair brushed. They don't look cold or undernourished. I understand not everyone looks like they are homeless, but I feel visually this is important in children's books when you are trying to get the message about homelessness through to them.
I love that a good deed by one of the children doesn't go unnoticed, especially by Santa, and he rewards them in the best way he can, with magic. I think the magical element is touching and beautiful, although I would have preferred the book to last a little longer so that children get to read and see more about it.
Cole and the Giant Gingerbread House is a lovely festive story. It is quite a simple read that doesn't delve too deep into any of the themes. It has no hard words, and with short paragraphs, new readers will be able to read this alone. Also, there is an Elf lurking on each page for children to find.
Purchase Online From:
---
What did you think of 'Cole and the Giant Gingerbread House'? Share your thoughts in the comment section below!
---
The above links are affiliate links. I receive a very small percentage from each item you purchase via these links, which is at no extra cost to you. If you are thinking about purchasing the book, please think about using one of the links. All money received goes back into the blog and helps to keep it running. Thank you.
Like us on Facebook – Tweet us on Twitter – Pin us on Pinterest – Join us on Instagram