Pick a Pumpkin by Patricia Toht – Book Review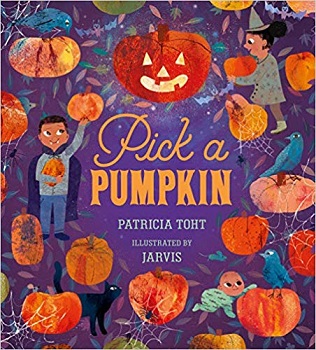 Pick a Pumpkin
Author – Patricia Toht
Illustrator – Jarvis
Publisher – Walker Books
Pages – 40
Released – 5th September 2019
ISBN-13 – 978-1406360615
Format – hardcover
Review by – Stacey
Rating – 5 Stars
I received a free copy of this book.
This post contains affiliate links.
It's Halloween! Which means it's time to dangle cobwebs and bats from the windows, put on costumes, and – most important of all – visit the pumpkin patch and pick out that perfect pumpkin! Then cart it home, scoop out the insides, carve a scary face, and finally light a candle inside, transforming it into a one-of-a-kind, glowing jack-o -lantern…
With warm, autumnal art, and a rhythmic read-aloud text that captures all the excitement and familial feeling of Halloween, this is the perfect book to share by flickering candlelight on the spookiest night of the year.

From the duo that brought us 'Pick a Pine Tree' in 2017 comes 'Pick a Pumpkin' the perfect book for Halloween.
In this rhyming hardcover book, you will meet a family at a Pumpkin farm ready to pick out their perfect pumpkins to carve into Jack-O'-Lanterns for Halloween.
Once the perfect pumpkins have been found and bought it is time to take them home and carve them into scary faces, along with the help of their friends. Don't forget that the house needs decorating too to give it that eerie feeling. When everything is done it is time to light the pumpkins and enjoy the night.
I love Halloween (my logo might give that away), we buy numerous pumpkins to carve and line them up and wait for the trick or treaters to arrive. In the UK I've never seen a pumpkin farm but I can just imagine how amazing they must be.
The book is filled with everything Halloween should be for a child, from carving the pumpkins to dressing up in scary costumes. The illustrations by Jarvis are amazing and give the book that autumnal feel with the rich orange and purple colours.
From beginning to end Pick a Pumpkin is about celebrating Halloween and being together as a family. It is warm, comforting and just perfect for the upcoming Halloween season.
Book Reviewer – Stacey
---
Purchase online from:
---
About the Author

When I was in third grade, I had my first brush with "writing fame" when I wrote a patriotic poem that won a contest. The prize was free summer writing camp. Was that what propelled me to becoming a writer? Nope! Sports camp was much more fun. Archery! Trampolines! Dodgeball on scooters!
I didn't think seriously about writing until I was an adult. When I was 28, I decided that I wanted to open a children's bookstore. With the support of my family, I did just that. And, BOOM! I was completely and forever in love with children's books.
When the store closed, I turned my attention from selling books to writing them. If wonder how long it took me to get my first book published, let's just say I'm a late bloomer…




---
What did you think of the book? Share your thoughts in the comment section below!
---
The above links are affiliate links. I receive a very small percentage from each item you purchase via these link, which is at no extra cost to you. If you are thinking about purchasing the book, please think about using one of the links. All money received goes back into the blog and helps to keep it running. Thank you.