Pick a Pine Tree by Patricia Toht – Book Review
Pick a Pine Tree by Patricia Toht – Book Review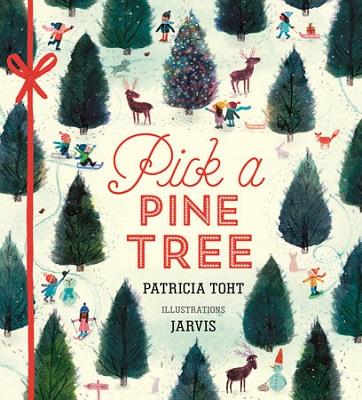 Pick a Pine Tree
Author – Patricia Toht
Publisher – Walker Books
Pages – 40
Released – 5th October 2017
ISBN-13 – 978-1406360608
Format – hardcover
Reviewer – Stacey
I received a free copy of this book
Post contains affiliate links.
From Alan's Big, Scary Teeth creator, Jarvis, and author Patty Toht, comes a beautiful, irresistible Christmas gift book that all begins with … picking a pine tree!
Brimming over with the excitement of being with family at the festive season, a gorgeously rhythmical narrative accompanied by warm, joyful art celebrates all the familiar rituals of decorating the tree – from digging out jam-packed boxes of trimmings, stringing tinsel, to, at last, turning on those twinkly fairy lights.
Review
Pick a Pine Tree is about a family going to choose their Christmas tree. From taking it home, choosing where to put it, which decorations to put on it, to then putting it up for the Christmas holiday's and enjoying it. The book covers everything that goes into getting that perfect tree.
Whether it is just me, but where I live, although there are places to go and choose a real pine tree (local ones are normally in pub car parks), they are nothing like what you see in the American Movies. Most people that I know (myself included) have an artificial tree which they get down from the loft each year. I've also never heard of decorating parties.
That being said, just because the book, to me, is very Americanised, it doesn't lessen the enjoyment any, it actually heightens it, as it's lovely to see how other people celebrate Christmas, and a big part of that is the tree.
With its rhyming text that flows naturally, to the full page crayoned-look drawings on matt paper, the book is perfect for little children all excited about Christmas. They will most definitely love the final page as you get to see the finished tree in all its glory.
Reviewed by Stacey

---
About the Author

When I was in third grade, I had my first brush with "writing fame" when I wrote a patriotic poem that won a contest. The prize was free summer writing camp. Was that what propelled me to becoming a writer? Nope! Sports camp was much more fun. Archery! Trampolines! Dodgeball on scooters!
I didn't think seriously about writing until I was an adult. When I was 28, I decided that I wanted to open a children's bookstore. With the support of my family, I did just that. And, BOOM! I was completely and forever in love with children's books.
When the store closed, I turned my attention from selling books to writing them. If wonder how long it took me to get my first book published, let's just say I'm a late bloomer…






---