Red and Lulu by Matt Tavares – Book Review
Red and Lulu by Matt Tavares – Book Review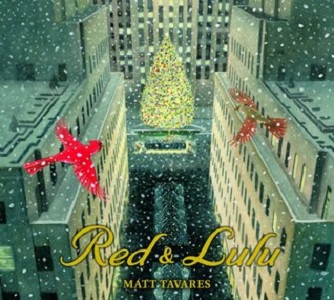 Red and Lulu
Author – Matt Tavares
Publisher – Walker Books
Pages – 40
Released – 5th October 2017
ISBN-13 – 978-1406376920
Format – hardcover
Reviewer – Stacey
I received a free copy of this book
Post contain affiliate links
From Matt Tavares comes a heart-tugging story combining all the cheer of Christmas, all the magic of New York City, and the real meaning of the festive season: how important it is to be surrounded by love.
Red and Lulu make their nest in a beautiful evergreen tree. It shades them in the hot months and keeps them cosy in the cold months, and once a year the people who live nearby string lights on their tree and sing a special song: O Christmas Tree, O Christmas Tree. But one day, something unthinkable happens, and Red and Lulu are separated.
It will take a miracle for them to find each another again. Luckily, it's just the season for miracles…
Review
Red and Lulu were a pair of Cardinal birds. They lived in a huge evergreen tree in the front garden of a little house. The pair loved each other as well as their home. They enjoyed life and were very happy together.
Every Christmas their home would be decorated with lights and the birds loved listening to the people singing below. Then one year the unthinkable happened, as Red went out to fetch breakfast and Lulu stayed behind, their tree was cut down and taken away.
Red tried to follow the truck, but he couldn't fly fast enough. He has lost his home and Lulu too, what was he going to do?
Red and Lulu is one of the most gorgeous children's books that I have had the pleasure of reading. The story is so poignant and beautifully told. It is also very emotional too.
What really makes this book stand out from the crowd is how spellbinding the illustrations are. They capture the emotions of the story perfectly. The snowy scenes are just exquisite, and look very Christmassy. I especially love the last picture with the Rockefeller tree and the ice rink.
This is a book that will be adored by little children, and one I can see being asked to be read over and over again. I also love that Matt Tavares has added information at the back about the annual Rockefeller tree.
Reviewed by Stacey

---
About the Author

Matt Tavares was born in Boston, and grew up surrounded by books and reading. From the time he was very young, his mother read to him every night, and his family made countless trips to the public library. Years later, as a studio art major at Bates College, he rediscovered his love for picture books, and decided to try to make his own.
For his senior thesis project, Matt wrote and illustrated a story called Sebastian's Ball, which eventually became Zachary's Ball, Matt's first published picture book. Zachary's Ball went on to win a Massachusetts Book Award Honor, and was named one of Yankee Magazine's 40 Classic New England Children's Books.
Since then, Matt has published eighteen more books and has won several awards, including three Parents' Choice Gold Awards, an Orbis Pictus Honor, and two ALA Notable books. His artwork has been exhibited at the Museum of American Illustration, the Brandywine River Museum, and the Mazza Museum of Picture Book Art.
When Matt's not working in his studio on his latest book project, he travels the country speaking (and drawing) at schools, libraries, conferences, and bookstores. He has presented at the Smithsonian American Art Museum, the Eric Carle Museum, the White House Easter Egg Roll, and he's even done a few book signings at Fenway Park.
Matt lives in Maine with his wife, Sarah, and their two daughters.